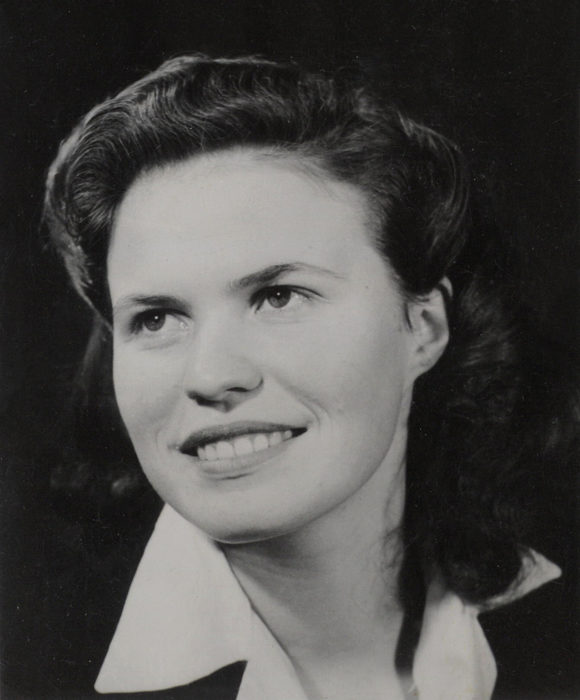 Bernice Strohschein
Obituary
Bernice Strohschein was the 8th of 10 children born to Emil and Olga Stober. She was born November 23rd, 1928, in Winnipeg Manitoba just days after the family had arrived in Canada, having barely escaped the tragic conditions in Ukraine brought on by the Bolshevik revolution.
Bernice's family settled on a farm near Overstone, Manitoba. They experienced community with other German speaking believers at the Baptist church in Overstone. At age 10, through the ministry of the Overstone church, Bernice accepted Jesus as her Savior, a commitment that shaped the rest of her life. Soon after, she was baptized in a river.
Bernice took seriously her older sister role to Albert and Margaret. Combined with her love for learning this helped make her well-suited for the teaching profession. In 1945, a teacher shortage in Manitoba enabled Bernice to become the teacher of a one-roomed rural school at the age of 16. At least one of her students was close to her age and taller than she was. Later she took a job teaching a combined first and second grade class near Winnipeg.
Having prayed for God's direction, Bernice sensed God answering when she heard an appeal for a teacher on an Indian reservation in Alberta. She applied for the job and soon found herself in a one-roomed school facing 25 children, ranging in age from age 6-16, who spoke only Cree, and had never been in a classroom before. Bernice had many opportunities to share the love of Jesus and looked back fondly on these years.
While teaching in Alberta, Bernice met Allan Strohschein, who had grown up on a farm not far from the reservation. Many invitations and dates followed, and Bernice and Allan married in 1954. Feeling God's call on his life, Allan left his parents' farming operation. Bernice and Allan moved to Edmonton where Bernice taught school, while Allan attended University and began Seminary.
Their daughter Sandra was born in 1957. At this point Bernice and Allan moved to Sioux Falls, South Dakota, where Allan completed seminary. After graduating, Allan and Bernice began serving a church in New Leipzig, North Dakota. Their son Don was born in 1961. Subsequently they served churches in Bismarck, North Dakota; Minneapolis, Minnesota; Renton, Washington; Beaverton, Oregon; and Colfax, Washington.
They truly were partners in ministry. Not surprisingly, Bernice had a passion for sharing the gospel with children. She was an engaging teacher and brought a huge amount of enthusiasm to all that she undertook.
Summer vacations usually consisted of long road trips to Alberta and British Columbia for happy reunions with extended family. Two trips to the Holy Lands were also major highlights for Bernice and Allan.
Retirement years brought more opportunities for ministry. Bernice and Allan served churches in Washington, British Columbia, and North Dakota on an interim basis. Favorite activities for Bernice included gardening and spending time with grandchildren. The yearly trips to the Cannon Beach Christian Conference Center sponsored by Bernice and Allan are part of her legacy treasured by all in the family. Best of all, she was a faithful prayer warrior. Along with Allan, she prayed for children, grandchildren, great-grandchildren, and extended family members.
Bernice left this earth for her heavenly home on November 16, 2022. She was preceded in death by her parents, brothers Paul and Albert, and sisters Gertrude, Frieda, Ella, and Mary. She is survived by Allan, her husband of 68 years, her sisters Elsie, Violet, and Margaret, her daughter Sandra (Will) Newcomb, her son Don (Julie) Strohschein, grandchildren Bethany (Joe) Goetz, Kaitlin Groves, Nathan (Megan) Strohschein, David (Kaitie) Newcomb, Paul (Debra) Newcomb, and Amy (Micah) Armbrust, and great-grandchildren Marielle, Robin, Joel, Audrey, Addison, Ian, Claire, and Wesley.
In her own words…
The most exciting aspect of our lives is when we look back and can see the hand of God in our lives. At times His leading is so gentle it is hard to discern whether it is His leading or our dreams that we are following. But I believe if we earnestly seek direction from Him, our dreams will be fulfilled and we can know "abundant life."
"I am come that you might have life and have it more abundantly." John 10:10
Comments
There are no comments available.