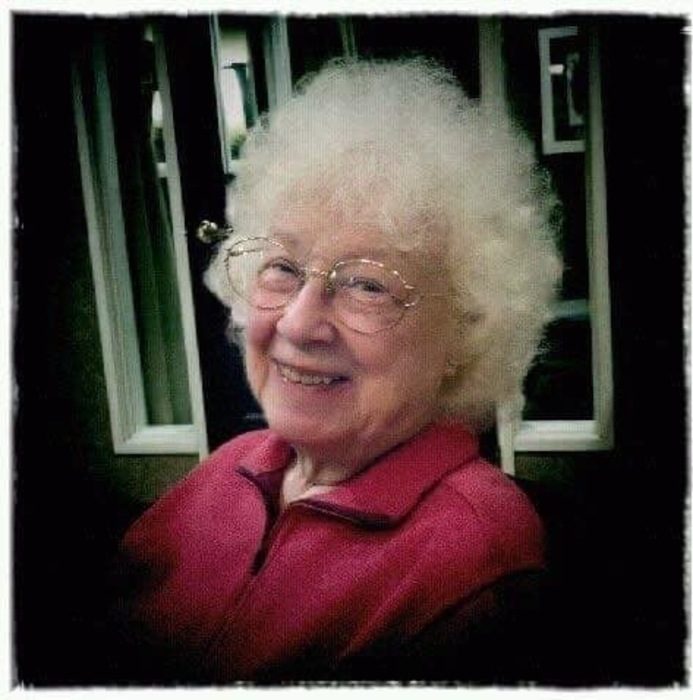 Lorraine Frances Skudler
Obituary
Lorraine Frances Skudler was born September 29, 1927 in Bremerton Washington to T. Hugh and Lydia Wilson. She was the oldest of three daughters. Early in her life, Lorraine's family moved to a home on the shore of Puget Sound in Southworth, WA. Her father was a civil engineer and her mother, a homemaker.

Around age 12, Lorraine developed a love for music and studied piano and cello which skills were well employed for the remainder of her life.
After high school, Lorraine attended the University of Washington for one year, but dropped out due to uncertainty about life direction. She worked for a year as a salesperson at a department store.


During that year, Lorraine was invited to a Free Methodist Church summer camp by friends and experienced a profound conversion to Christianity. She enrolled at Seattle Pacific College where she studied English Literature, played cello in the college symphony, and made many life-long friends. Lorraine also met schoolmate Edward O. Skudler. Ed was intently preparing to serve as a Free Methodist missionary to Japan and attended Seattle Pacific to study Biblical Literature and Japanese. Before they met, Lorraine was considering caring for orphans in a foreign country. Pretty Lorraine fell in love with tall handsome Ed and they married at Lorraine's family home in Southworth. Lorraine completed her degree at Seattle Pacific, and in 1952, they boarded a ship for Tokyo.
In Tokyo, under the auspices of the Free Methodist Church, for one year they studied Japanese language and formed connections with many Japanese Christians and other Americans serving as missionaries. First daughter Naomi was born in February 1953. Over the next six years, Ed and Lorraine lived in the cities of Taira, Mito, Sendai and Hitachi-taga in northeast Japan. Lorraine was involved in interactions with women and children, hosting gatherings and creating and performing in musical programs for regular and holiday services.
Second daughter Jeanne was born in October 1954. Triplets Marjorie, Margaret and Mariel were born in February 1956. Their birth was quite a sensation in Japan due to the scarcity of multiple births there at that time, and television news covered the birth. Sixth daughter Pauline was born in August 1957.
In 1959, the family moved to the US, living initially in Seattle, where Ed and Lorraine both remained active in the Free Methodist Church. In 1962, the family moved to Bonners Ferry, Idaho and in 1964 to Priest River, Idaho, with Lorraine busy with responsibilities of a pastor's wife and providing music as Ed pastored the local Free Methodist congregations.
In February 1966, seventh daughter Lori was born.
In 1967, Ed and Lorraine stepped away from pastoring churches and bought a home in Priest River. Lorraine attended Whitworth College in Spokane, Washington to obtain a teaching certificate, and commenced ten years of teaching first grade in Priest River.
During 1977, Ed, Lorraine and Lori moved to Seattle where many of their daughters were residing after attending their parents' alma mater, Seattle Pacific College (later University), and where Lorraine's parents and many other family members lived nearby. They attended North City (now Shoreline) Free Methodist Church.
Lorraine participated in music at her church and volunteered at the church library and with a Seattle organization teaching English as a second language. Three grandchildren were born and lived nearby, and Lorraine and Ed were delighted to engage with them.
After Ed retired, in 1990 Ed and Lorraine returned to Japan for two years through the Free Methodist Church VISA program to serve in Machida in western Tokyo with the local Free Methodist congregation and teach English.
After returning to Shoreline, Lorraine was thrilled by travels to Italy and France accompanied by daughter Lori.
Ed passed away in November 1997 after 46 years of marriage to Lorraine. She continued to live in their Shoreline home for many years.
After selling her home, Lorraine lived at the Creekside Senior Living Community in Woodinville, Washington for five years.
Following a series of strokes and after taking a fall, she lived at an adult family home in Shoreline, Washington where her room had a view of Puget Sound, on a distant shore of which also stands her childhood home. She passed away there February 13, 2020, surrounded by family.
Lorraine was preceded in death by husband Ed and sister Dolores White. She is survived by sister Janet Parsons of Issaquah, Washington, daughter Naomi Skudler and son-in-law John McBride of Seattle, daughter Jeanne Sandusky and son-in-law Bill Sandusky of Bothell, Washington, daughter Marjorie DeLapp of Spokane, Washington, daughters Margaret Skudler and Mariel Skudler of San Diego, California, daughter Pauline Skudler of Lynnwood, Washington, daughter Lori Skudler and son-in-law Dan Sweet of Seattle, and grandchildren Simon (spouse Bekah) Sandusky of Bothell, Jacob (spouse Laura) Sandusky of Lake Forest Park, Washington and Brittany DeLapp of Spokane.
Donations in memory of Lorraine, a lifelong lover of music, to bring more music to the world by benefitting the music program at Kenmore Elementary where daughter Jeanne serves as music teacher, may be made online at https://northshoreschoolsfoundation.kindful.com/?campaign=1056489 or by check payable to Lorraine Skudler Memorial, Kenmore Elementary Music and mailed to Northshore Schools FDN, 3330 Monte Villa Pkwy, Bothell WA 98021.
Comments
There are no comments available.