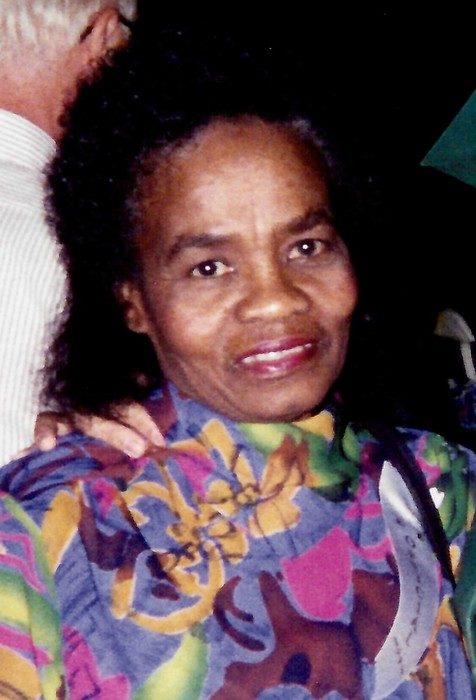 Lisser Eloise Herbert
Obituary
Lisser Eloise Herbert passed away peacefully in her home in Arlington, Washington on October 23, 2022 at the age of 90. She is survived by her two loving children Fern Herbert and Paul Herbert, her brother Beresford Shorter and her two sisters Inez Merrick and Carole Ann Spencer. She is preceded in death by her brother Elmer Shorter. She is also survived by nieces Dionne, Kelley, Prudence, Rema, Grace, nephew Patrick, and many cousins in Jamaica and on the eastern United States.

Lisser was born in Kingston Jamaica on May 8, 1932 to parents George Gray and Mercy Bell Cottrell. She was baptized at the age of 16 as one of Jehovah's Witnesses, and was a loyal servant of Jehovah for 74 years. She loved to go in the door-to-door preaching work and was always present at the Kingdom Hall meetings. When Lisser retired from the Seattle Public Schools in the mid-90s, she became a full-time pioneer and served as such for several years.
Lisser was a most devoted Mother to her two children, Fern and Paul. She loved to sing and had a beautiful nightingale voice. She sang lower soprano and was sometimes asked to sing at weddings or memorials for her spiritual brothers and sisters. She is described by all as having a sweet personality, always a ready smile, and remarkable inner strength.
She is sorely missed by all whose lives she touched. In keeping with her faith as one of Jehovah's Witnesses, Lisser awaits a resurrection in Jehovah's time.
A private viewing will take place on November 2nd, 2022, followed by burial at 2pm at Floral Hills Cemetery, 409 Filbert Rd, Lynnwood, WA 98036.
A Memorial Service will be held at 1pm on Saturday November 5th, 2022, at the Kingdom Hall of Jehovah's Witnesses, 1730 Madison Street, Everett, WA 98203.
A reception will follow at the Kingdom Hall after the service.
Flowers and cards should be sent to Chapel of the Resurrection Funeral Home at 16300 112th Ave NE, Bothell, WA 98011. Please schedule delivery between 9am and noon on November 2nd.
Comments
Daphney Ross (Posted: November 03, 2022)
Fern, Paul my deepest sympathy to you. I met your dear mom Lisser over fifty years ago, our long friendship was instant. She was not only my co-worker but my friend and mentor. I will always remember her kindness. The ease with which she showed love; her courage and compassion. Lesser was to me a one-of-a-kind person with a great heart and lived an admirable life. The trail she has lest behind will continue will inspire us. Fern and Paul praying God will comfort and care for you while you celebrate the legacy that lives on. "Blessed are the ones who walk in the light of your countenance".
Jennifer Yuen (Posted: November 03, 2022)
Dear Fern and Paul, My condolences to you. I knew Lisser and you both at later part of her life. The love and bonding in your family was very impressed. She will be missed and R. I.P.
Oriana Combs (Posted: November 03, 2022)
Fern, Paul, and family, my heart goes out to you. Lisser was well loved, and truly will be missed. I can't wait until her and I will race to see who is faster. My prayers are with your family, and everyone who loves her.
Marjorie Olorunniwo (Posted: November 03, 2022)
Dear Fern and Paul, we want to address our deepest condolences to you. Fern, I remember your hospitality when you would invite us to come in to preach with your mom at your house on Friday afternoon. I will never forget your mom's zeal and her desire to always write letters. May Jehovah God be with your family at this time until we see her again. Love-Olorunniwo family.
Kara Fairfield (Posted: November 02, 2022)
Praying for her family.
Chris McClellan (Posted: November 01, 2022)
Dear Fern,Paul & family I'm so very sorry. I just loved your mum & the times we had in the ministry. I esp loved her laugh. She was so faithful to Jehovah. What a joy we will have to see her & hug her again in paradise. This is such a comfort. Prayers are with you
Rema Merrick (Posted: November 01, 2022)
My heart goes out to you, Fern and Paul. I know that words are inadequate at a time like this, but I wanted you to know how very sorry I am for the loss of your dear mummy. I deeply admired Aunt Lisser's tenacity and heart, and I'll always remember her with love. With deepest sympathy and love - Rema
Cher Rudd (Posted: October 31, 2022)
Dear Lisser's family, I have not met you, but I was very fond of Lisser. Her and I worked in service together often, several decades ago, when I lived in the area. She was an awesome sister who lived her faith and love for Jehovah. I learned so much from her and felt blessed to know her. I look forward to being able to see her again someday. May Jehovah heal your hearts from the pain and be comforted with the rich blessings ahead when she again will be with you. My love to you all.
barbara merrick montaque (Posted: October 30, 2022)
May Jehovah comfort you in this time of distress has we look forward to the time when we see our love one again
Leon, Maria, & Michael Packer (Posted: October 28, 2022)
Dear Fern, Paul, & family, Our thoughts and prayers are with you during this time. We look forward to when we can embrace our dear Lisser again. May the God of all comfort be with you. Our sincere condolences.
Fern Herbert (Posted: October 28, 2022)
Dear Mummy, life without you will certainly be an adjustment. I miss you, and feel incredibly Blessed to have had the Mother in you that I did. I will strive to pay forward the abundance of love with which I was raised as I move forward in my life. I love you forever. 'till we meet again... Your loving daughter, Fern