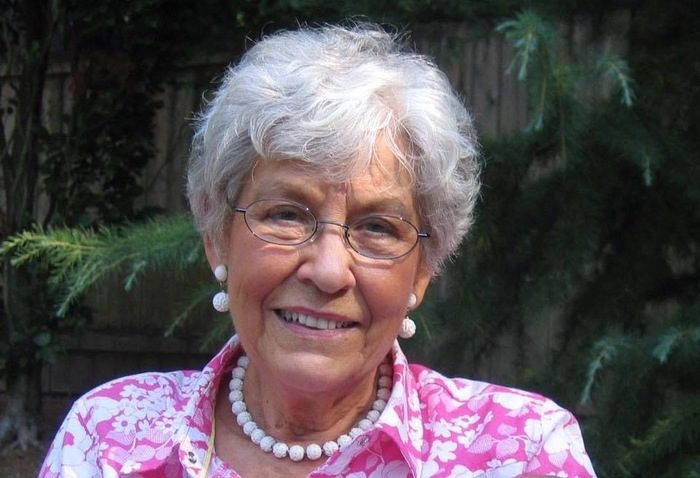 Dora A. Dillon
Obituary
We are sad to let you know Dora A. Dillon passed away on 4/25/20, due to a major stroke, at the age of 95.
Dora was born on 2/20/25, in Marsing, ID, to Emma and Levi Slabaugh, and was raised by Merle Dillon. Dora was preceded in death by her beloved grandson and 6 siblings, all of whom she was proud, including her 4 brothers who served in WWII, in the Normandy invasion (George), Italy (Willard), and Battle of the Bulge (Gerald-killed in action).
Dora was a Dental Assistant from the age of 18 until she retired, spending the last 20+ years of her career working for Dr. Phil Gallaher, in the Medical Dental Bldg. in Seattle. During that time, she returned to school to obtain her expanded duties dental certificate.
Dora was a member of Beta Sigma Phi for 65 years, a trusted friend to Vi, to her Sunday School class, her sorority sisters, neighbors, coworkers and all who knew her. Dora's friends often commented that Dora would never say a negative word about anyone. She was the role model that everyone tried to emulate, of what it means to be a good person, wife, mother and friend.
In 1946, she married Robert K. Dillon. Bob and Dora had 4 daughters, Judy Inslee (Woody), Janet Wold (Don), Nancy Adams (Matt) and Patty Nolan (Jeff), 10 grandchildren: Todd Wold, Lisa Mackey, Angela Andrews, Ian Smith, Jesse Smith, Joshua McCunn Adams, Lester Forrest Inslee, Stephanie Inslee, Jef Inslee and Jennifer Inslee, all who adored her. Dora also had many great-grandchildren (natural, adopted, and step!), as well as many loving nieces and nephews, with whom she kept in close contact. Everyone who met her, wished that she would adopt them as their Mom, and so she did! "Her children arise and call her blessed." Proverbs 31:28
The family would like to thank Angela and Kyle Andrews, who opened their home to Mom and provided a loving, peaceful, Hospice House for her in her last days. Mom passed peacefully, surrounded by her loving family, as we handed her off to the safe care of her heavenly family. We are also thankful for the caring nurses (from Right at Home Healthcare and Evergreen Health Hospice), who provided wonderful, loving, tender care to our Mother.
The family will hold a Memorial Service at Crosspointe Church in Bothell (at a later date, due to the WA State Stay Home Stay Safe Proclamation). Dora has requested her nephew Bill Slabaugh officiate her Celebration of Life, and will have her sorority sisters, family and her friend Dave Foster participate in the service. Gravesite service will be after the Memorial, at the City of Kirkland Cemetery- in the Urn Garden.
In lieu of flowers, Dora requested any contributions be made to the SADS Foundation, in memory of Jesse Smith (www.sads.org). Online guestbook is also available at the Seattle Times www.Legacy.com.
Comments
Karen Sherwood (Posted: October 23, 2020)
During my search to re connect with my old friend and coworker, I found she had passed......oh how I would have loved hugging her one more time. Dora and I worked for Dr Gallagher and became friends. Her kindness, sense of humor and selfless love got me over some rough spots in my younger years. I will always be grateful for her true friendship. RI P my dear friend.
Val Wold (Posted: May 17, 2020)
When the night turns into dawn, I think of Dora. She made everyday, a better day beginning. Dora touched you with her kindness, she gave you a present when she showed you her smile. She loved, without a reason why. Her life she lived, she lived in GOD's WORD. So when the fog clears on a new day beginning, I may see the mountains yet to climb, Dora showed me the sun that will always shine, no matter the weather...& indeed, she was right! Bob & Dora rescued this young girl from a small town, lost wandering in a big city alone. I will never forget what they did for me, I will always be FOREVER thankful...to my dearest friend Jan Wold, to her family, especially to Dora Dillon! Dora showed me what a morning looks like in the dawn. Thank you, Dora Dillon.
Debra Merte (Posted: May 12, 2020)
Dora shined with love, grace, gentleness and humility. Her kindness was a hallmark of her earthly life. I see her spirit through her daughters and am blessed to have had her touch my life.
Hawah Jeruto "Jay" (Posted: May 12, 2020)
Had a great pleasure to meet Dora, such a beautiful and always smiling person. She was surrounded with so much overflowing love. I believe she is dancing with Angel's and great family who welcomed her. Rest in peace beautiful.
Nancy Corbitt (Posted: May 12, 2020)
"They" say what's really important is that little dash between a person's birthday and death years (eg., 1925 - 2020). That dash encompasses said life. "They" also say we by human nature may forget the successes, the victories, the markers or identifiers of a person, but that we'll always, always, always remember how that person made us feel. Encouraged growth. Understood the spoken and unspoken. Forgave and handed over to time any "judgments". So be it with Dora. That "dash" cannot begin to cover her existence, her wins, her caliber or her legacy. And as for feelings she bestowed to others, she was the great original positive enforcer, the compassionate voice of reason, the finest liberator. I just knew without any doubt that surely she loved me the very most! Apparently not. She loved everyone the most and everyone loved her the most. She sowed goodness, humanity, love, humility on us all. The truth is, Dora WAS love and Dora unselfishly gave of herself, her beliefs, her faith, her sheer goodness every single day of her life. She was easy to talk to. To confide in. To trust. She listened to others like they were far more important than herself. Her words were measured and metered. She laughed often. She felt deeply. She simply gave, gave, gave. I am so sorry about not obeying the laws of brevity. There are vastly important things about her, in her "dash". She'll be missed every day by every single person who knew her. Our loving her is infinite . Blessings, peace, comfort, strength to Judy, Jan, Nancy and Patty, her daughters, and to her vast family. It is an honor to have known her. We all are the better for it. Thank you God for this Amazing person, she indeed is "Precious".
Suzanne Boyd (Posted: May 12, 2020)
Honored to have know Dora. She was so kind and loving and never judge mental. Heaven just got a little bit sweeter. ❤️
Debbie Wold (Posted: May 12, 2020)
Dora was a beautiful lady inside and out. She certainly leaves a legacy of love behind in her family. Every time I saw her she always made me feel so special to her but that's the way she made everybody feel. He was truly a gift from God.