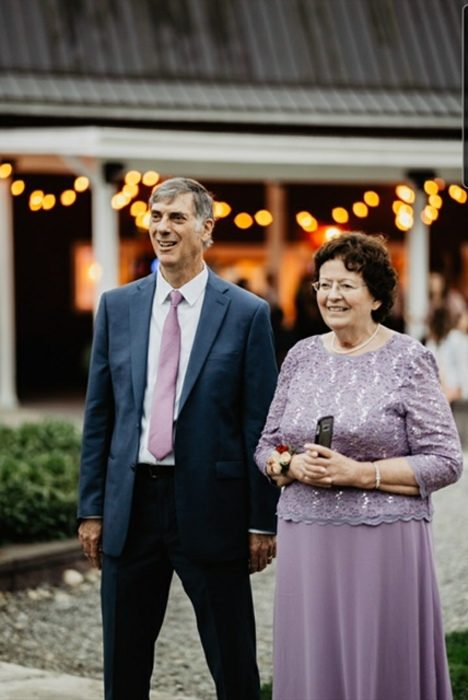 Paul & Mary Kay Johnson
Obituary
On Christmas morning, 2021, the beautiful souls of our parents, Paul and Mary Kay Johnson, said goodbye to us four kids one last time. Our parents met while attending Blanchet High School in Seattle and started dating their senior year. They married in August of 1976 and moved to San Bruno, California for a year before then moving back to the Seattle area and quickly settling into life as a married couple. Their first child came along in 1979 and 3 more of us followed in the next eight years. Our mom stayed home to take care and nurture us, shuttle us to practices and dance recitals, and throw us the best birthday parties that friends of ours still talk about to this day! Our dad worked as an Engineer while also picking up other odd jobs in the evening and weekends to help put all four of us through Catholic School. He could work all day and have enough energy to put his work jeans on and do all the house projects that our mother wished for (before Fixer Upper was a thing)! Our dad coached our school sports teams, and when the school we went to didn't have a Kindergarten, they both designed and built one. Our mom was a fiery, Irish woman, who took her Irish heritage very seriously. She was proud to be Irish and proud to have children who appreciated it as much as she did. We remember our dad, who was half Italian, bringing home salami from Pike Place Market after work and singing "O Sole Mio" as he made spaghetti for dinner in the evening. Needless to say, all four of us can tan like no other despite our Irish heritage-Thanks Daddy!!
The stories we could tell from countless family parties and hilarious road trips would be enough to fill a book and put on our own traveling comedy show. While we miss them more than words can describe, we know they have lived a remarkable life filled with so much love. If there were ever parents that loved to be parents, it was our mom and dad. They gave us everything until there was nothing left to give, and when or if we needed more, they always found a way. All they ever wanted was for their kids to stop by their house, hang out with them as often as we could, and talk about whatever was going on in our lives. Before leaving their house, our mom would insist that she smell our foreheads before kissing us goodbye at the front door, even if it required her to stand several steps up on the stairs to do so because we were all much taller than her. She insisted we still had the same scent we did as the day we were born.
Our parents gave the best advice. They worried when we failed, but still let us, so we could learn from our mistakes and how to stand up for ourselves. When we succeeded there was never bigger fans of ours than our parents. No matter what they were doing they would stop, make some tea, and talk when we stopped by. Our mom always said that when you have babies all you ever want in this world is for someone to love them the way you love your own children. And it is ironic because as you get older you start to realize that you want the same for your parents. They excelled at being the best parents they could possibly be.
They loved being grandparents. From the day the first grandchild could say their names, they were known as Gramma and GrandPaul. Everything they did was for the grandchildren, whether attending sporting events or picking kids up from school, they were there. They spoiled the heck out of all of them and loved them beyond measure. They did their part and they did it right. Navigating through this world and making it up as they went, one day at a time, fiercely protecting and guiding us into the people we are today; thus helping us shape our own children.
We love you guys and we would have taken care of you till we had nothing left to give and still would have given more. We are so proud of both of you for everything you accomplished as parents and as a couple. You two gave the best hugs and we cannot wait to get another one from you both someday soon. Until then, we will all continue to be good wives, husbands and parents to our own children, because that is how you both raised us. No exceptions and no excuses.
Our parents are preceded in death by their parents, Rich and Helen Mulcahy and Parma Johnson; sister-in-law Sandy and brother-in-law Dick. They are survived by their children, Eileen (Damien), Paul (Carly), Brendan (Heather) and Patrick (Heidi); grandchildren, Declan, Brigid, Liam, Conall, Eamonn, Fionna, Olin and another baby boy to be named, Paul, due in July; Paul's father, Arnie Johnson; siblings, Don, Arnita (Keith) and Pam. Mary Kay's siblings, Richy, Margie (Doug), Frances (Marvin) and Charlie (Tina). They also are survived by all of their countless nieces and nephews whom they loved very much.
There will be a funeral mass held at St. Michael's Catholic Church in Snohomish on Friday, January 21st at 11am. All family and friends are welcome to attend.
In lieu of flowers, please make donations in their name, to Seattle Children's Hospital, since some of us kids (and grandkids) spent a lot of time there. Our parents spent countless late nights with us four kids and their grandchildren worrying about our health. Please donate to seattlechildrens.org.
Comments
Sue and Steve Nichols (Posted: January 22, 2022)
Dear Mulcahy and Johnson families, Our hearts go out to all of you. We are never ready for our loved ones to leave this world, but when they are called home unexpectedly, it is even harder. Our prayers are sent above for the Lord to bring peace to all of you. God bless you.
Ann Cox (Posted: January 21, 2022)
Deepest sympathy Damien and Eileen and the Johnston Family on the sad passing of Paul and Mary Kay. May They Rest In Peace 🙏
Margie Hakala (Posted: January 19, 2022)
Dear Eileen, Paul, Brendan and Patrick A beautifully written tribute to your mom and dad. I know they are smiling and happy hearing your words. So many wonderful memories for all of you. Parties, football games, graduations, Irish dance, weddings and grandchildren are just a few. You all were their greatest achievements. They loved each of you deeply and were always there to talk. I remember your mom sniffing your foreheads, cracked me up. She's the only person I know who did that. When each of my children were born she would sniff their foreheads first and smile. I will always remember the happy times we all shared. I hope you find comfort knowing they are together in Heaven, Grandma and Grandpa's arms wrapped around them. You are always in my thoughts and prayers. Love, Margie
Christina Meza (Posted: January 19, 2022)
Eileen and family, My thoughts and prayers go out to all of you. May you find comfort and peace in the Lord and brighter days ahead. Love to you all.
Fionnbar and Morah Cox (Posted: January 19, 2022)
Our deepest sympathies to the Johnson family on the passing of Mary Kay and Paul. May they rest in peace.
Drew and Sherry Beery (Posted: January 19, 2022)
Please know that all of you are in our prayers. Know also you were lucky to have parents such as yours. Always remember who they were and what they wanted you to be!
Lynn M. MacMillan (Posted: January 18, 2022)
What a beautiful photo and tribute to your Mom and Dad. I will think of them always just the way you described them. My heartfelt condolences to you four kids and Rich, Francie, Margie, and Charlie, you are all in my prayers. Take care of each other. All my love, Lynn
Theresa Tierney (Posted: January 18, 2022)
Your mom and dad will always have a special place in our hearts. We Love You and are praying for you. Theresa, Eileen & Brian Tierney
Richy Mulcahy (Posted: January 18, 2022)
You kids did good!! Your Dad and Mom are hanging with Grandma and Grandpa.
Colleen Shannon (Posted: January 18, 2022)
Dear Eileen, Paul, Brendan and Patrick, This is beautiful tribute to your parents. Thank you for sharing all this. I love the sentence, " my mom was a firey, Irish woman." Yes she was! She was kind and funny. She and I are first cousins. Your grandma Helen Claire and my dad were sister and brother. I loved to play with your mom when we were little when our families got together. When we were older she told me about you all, so proud, and yes, she loved being a mom. I was delighted to read your mom had a grand daughter named Bridget. 😊 I'm so so sorry for your broken hearts, I've been thinking of you all daily. Thank you again for this wonderful, beautiful tribute. Love, Colleen Shannon