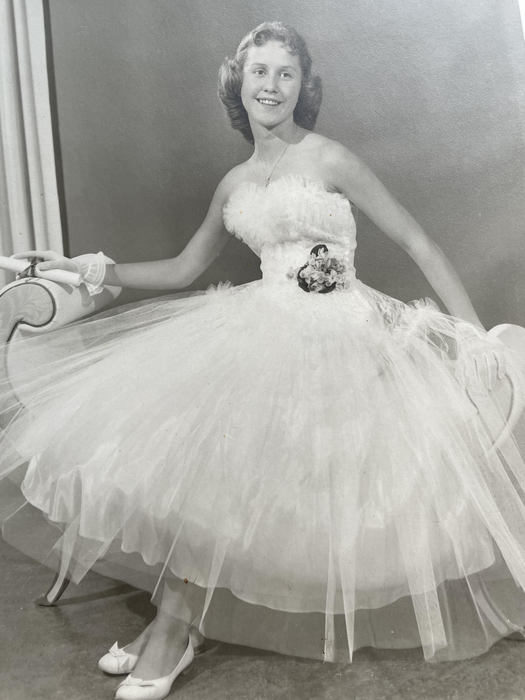 Anne Watts
Obituary
Anne Watts died peacefully in her sleep at her home on March 5th, 2021.
Anne Labentsoff was born in Nelson, British Columbia on December 1, 1937. A middle child, she had an older sister, Margie, and younger sister, Hazel. She was raised in Brilliant, B.C., speaking only Russian until she attended school, where she learned English. She went to Stanley Humphries High School in Castlegar, and played on the school girls basketball team. It was shortly after graduating high school that she became a Christian. Her sister, Margie, witnessed to her and when she attended a church in Castlegar, she wept throughout the entire service and gave her life to her Lord and Savior. From that point forward, she never wavered in her faith and love for Jesus Christ. Anne followed her sister, Margie, to Bethel Bible College in Saskatchewan, after she graduated. There, she met George Watts, whom she would later marry. After Bible school, she went to the Holy Cross School of Nursing in Calgary, Alberta where she graduated at the top of her class. She loved being a nurse, and worked in several different fields of nursing, including surgery, pediatrics, and geriatrics.
Anne and George married in Calgary, Alberta on August 31, 1963. Years later, they moved to Montreal, and had their first child, a son, named Matthew. Anne and George moved to the quaint historic town of Lewiston, New York in 1974. Their daughter, Sarah was born soon thereafter. Anne then stayed home to care for Matt and Sarah. She was involved in their church, Lewiston Assembly of God, volunteering as a Children's Church volunteer, and chaperoning various youth events. Anne was part of Women's Aglow Fellowship, and met with other women in small groups. Anne had several close friends, many who lived out of town, but she kept in contact with them throughout her life. Some of her favorite moments were gathering with her sisters, and sister-in-law (also Anne Watts) and speaking Russian and laughing together.
Anne loved her children, supporting them in their various activities. She hosted countless sleepovers and birthday parties. She was a fantastic cook and made homemade Halloween treats for the neighborhood for many years.
Anne and George opened their home to various people in need over many decades. They had countless people living with them throughout the years, a testament to their belief that "to whom much is given, much is required."
Anne and the family moved to Bothell, Washington in 1988. Here, Anne got back into nursing, as the kids were in middle and high school. She chose to work in geriatrics at this point in her career. She enjoyed being a nurse, and it spoke to her nurturing character.
Anne and George loved vacationing in Maui. There, Anne would swim in the ocean every morning, and lay out in the warm sun. She and George especially enjoyed when Sarah and her children would join them in Hawaii. Anne was known to her grandkids as "Baba," and she loved them dearly.
Anne enjoyed gardening, cooking, singing, and music, in general. She even took cello lessons in her 40s! She loved to read and went to the local library on a weekly basis!
Anne will best be remembered for her warm, caring nature and her desire for others to know the Lord. She prayed for, and witnessed to anyone who was the least bit interested. Anne was a hard-worker, but also loved to relax at home. She would spoil her grandchildren with bubble baths and sweet treats.
Anne is survived by her husband, George, of 57 years. Her sister, Hazel (Pereversoff). Her children Matt and Sarah (Todd), and her grandchildren, Cohen, Audrey, and Fletcher.
She will be dearly missed.
Comments
Ron Hebron (Posted: May 09, 2022)
We were friends at Cedar Park Church and continued after we left. Obit omitted: she had a song for every occasion. Music was in her heart! Greatly missed.
Satoko & Aaron Wong (Posted: April 03, 2021)
Anne will remain in our memory as elegant and graceful, and know that she is received joyfully in our Eternal Home.
Bruce & Jackie Johnson (Posted: April 03, 2021)
I am overcome with gratitude for the legacy of the Watts family, and the Walter & Grace Hanley (my dad &mom) friendship. My husband Bruce and I were grandfathered in to a forever friendship with the Watts. We lived in Bothell in the 90's. I spent many days with Anne. We went swimming at the ymca, where she taught me how to relax, and lay on the bottom of the pool. (This did alert the life guards). We shopped at the best consignment clothing shops! We sang song after song. We climbed trees, picked plums and flowers. walked on many forest trails, George and Anne led a neighborhood Bible study in our home. Anne was overflowing with the love of Jesus.; it overflowed on me. I can't wait to sing and dance with you in heaven! From Bruce; I first met George and Anne at my wedding in 1985. In 1989 they took me in as my job led me to WA; then began a bonding friendship between our families. Anne was a kindred spirit, and a great conversationalist. She had a wonderful tender heart and would pray in the spirit for any needpresented. She loved us well, and we loved her. Well done good and faithful servant. You were a wonderful example to us.
Kevin and Patty Viklund (Posted: March 29, 2021)
Anne was three of the most important things in life. A wonderful wife, a loving mother and a caring grandma. I was always impressed with her great nutritional advice for the kids. Dementia strikes many families. So sorry that it happened to Anne. She was blessed with a loving and caring family. Watching her family with her was like watching the Notebook. My son Todd was fortunate enough to marry Anne's only daughter, Sarah. Rest In Peace Anne.
Wendi Okerlund (Posted: March 28, 2021)
I will remember Anne for her sweet, loving spirit and passion for the Lord. She dearly loved to sing and I do too. A few years ago, George and Anne had attended "Worship Through Music" at Bel Pres. After church we had met family at a Chinese restaurant. Anne began to sing softly and I joined her as she was next to me, it was a precious, sacred moment I will long remember. When choir resumes I will miss seeing her in the congregation. You are all in my thoughts and prayers. Much love to all the family!
Laurie Neary (Posted: March 25, 2021)
Anne was a generous person with a good sense of humor and a ready smile. When it was her turn to bring treats for our fellowship time after Sunday morning service, it was a good day! I have several of her recipes in my collection today. She loved the Lord very much, and loved to tell the story of when she gave her heart to Jesus. I heard it several times and it never got old. She will be missed!
Michael Pereversoff (Posted: March 24, 2021)
My auntie Anne was such a wonderful person in every way. Both Margie and Anne treated me like another son with kindness and discipline in such a nice balance. Truly a lady who cared deeply about friends but especially family. A great influence over the years that provided encouragement and many happy thoughts. You are missed auntie. Say hello to the ones gone before you. Much love.
Elizabeth and Friedhelm Radandt (Posted: March 22, 2021)
Ours was the privilege to get to know Anne only during the last few years of her life. We appreciated those times of fellowship with her and George, be it over coffee at our home or listening to a performance of the Messiah at the concert hall. Her participation in our conversation told us who she was in Christ, a follower of Jesus. To her it was summed up in a person's love for the Savior. We are grateful for the opportunity we had to touch her mind and sense the strength of her faith.
Molly Moore (Posted: March 19, 2021)
March 5 2021 was the date of the homegoing of my friend Anne Watts. This has been a valued relationship through a majority of my life. Some very close and personal and some from a distance. Her greatest impact in my life was as a model for what a wife should be. She loved God and His Word. What a student she was---a graduate of Bible school but her studies never quit. Her career choice of nursing gave evidence of her love of serving. She was always ready to say "How can I help". Such a generous heart. Anne supported George in whatever situation they found themselves. I loved watching her gift of hospitality. She made you feel welcomed,her cooking was marvellous and all this was set in a environment of love and joy. Her laugh was contagious. One thing I tried to mimic was her ability as a seamstress. In this I was a big fail! Love you Anne-you were beautiful inside and out. Molly and Jim.
Dorothy Watts and Larry Young (Posted: March 18, 2021)
We will always remember our dear sister-in-law for her warm and kind nature. We have many happy memories of the appetizing meals she prepared, and of musical gatherings around the piano, singing songs, hymns and carols. Music gave Anne so much pleasure throughout her life. She had a deeply spiritual core and had a lovely way of communicating peace to her family and friends. No matter what life presented to her, Anne was enabled by her faith to face difficult circumstances with equanimity. We thank God for Anne's life and example and pray for comfort for her family. Dorothy and Larry
John Collins (Posted: March 18, 2021)
I remember Anne from Lewiston Assembly of God. She was a wonderful woman and my sister and I were friends with her children. She was always a gracious lady even when we were acting up. My deepest condolences to George, Matt and Sarah and the rest of their families. She was truly a servant of God and will be greatly missed.
Dan Neary (Posted: March 18, 2021)
I always appreciated Anne's kind encouragement. She is missed.