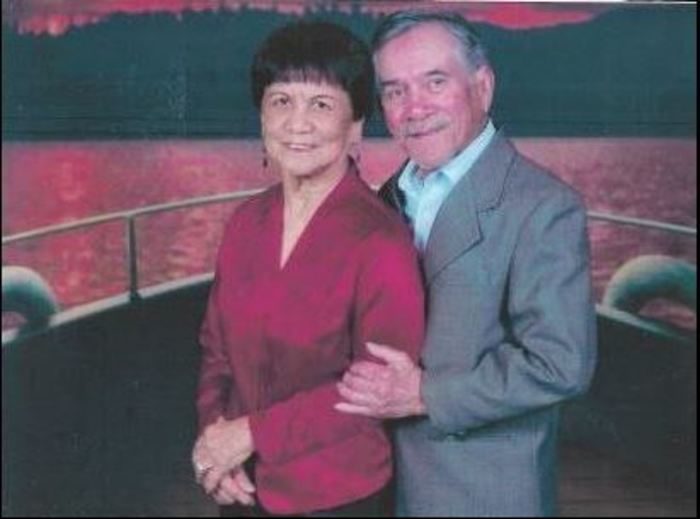 Charles & Flora Tagaro
Obituary
It is with great sadness we announce the passing of our loving and devoted parents Charles & Flora Tagaro.
Charles was born on October 18, 1926 on the island of Maui and raised in the town of Kaunakakai on the island of Molokai, Hawaii. He was the younger of two brothers.
Flora was born on March 2, 1927. She was the fifth of six children, growing up in Ahukini, a small rural community of Lihue on the island of Kauai, Hawaii.
They both met in Honolulu in the late 1940's and were inseparable. Upon completion of Charles' military service, they married and had 3 children. They taught their family the value of a simple life filled with faith, discipline, tradition & kinship.
After relocating to Kirkland, WA in 1979, they described their later years as plentiful and joyful, relishing the opportunity to watch their children's families grow.
Flora was a nutritionist prior to retiring. She was not only fit & active but also very sociable. She had a flare for cooking, gardening & crafts all of which were self-taught. Singing & dancing were her passions. Even as her illness progressed - that light of her spirit remained strong and she continued to bring joy & laughter to her fellow residents at the nursing home.
During Charles' younger days in Hawaii he loved deer hunting on Molokai & underwater spearfishing on Oahu. In his downtime, he enjoyed solving brainteasers & trick puzzles. Prior to his retirement, Charles was a mechanic specializing in Volvo luxury cars. He was also a jack of all trades – skilled in repairing everything from faulty appliances to home remodeling. His sociability, calm attitude, sense of humor & laughter was so infectious. In spite of his dementia, while living at his nursing home, Charles managed to outwit his caregivers and escape for a brief moment to wander the streets. Evidently, he still had that spark of mischief in him.
At 93 yrs. old, Flora passed away peacefully on Easter, April 12, 2020 at the Bellevue Haven nursing home. She was surrounded by Natty & her loving staff.
Charles also 93 yrs. old, while at the Brookwood nursing home surrounded by Gabby & her loving staff, passed away 3 days later on April 15, 2020 - faithfully rejoining his wife of 71 years.
Charles & Flora are survived by their children: Linda (Reist), Debra (Hardi) & Gary Tagaro; their six grandchildren: Scott Reist, Jonathan Reist, Chris Hardi, Kathryn Hardi, Jonah Tagaro and Taylor Tagaro; Flora's brother Crispin Relacion; sister-in-law Helen Relacion and numerous nieces & nephews.


Charles & Flora are very dearly missed but will forever be in our hearts. May they rest in peace. A memorial celebration of their lives will be held on the island of Kauai… date to be determined barring further restrictions and quarantine orders of the Covid-19 pandemic.
Memorial donations in Charles & Flora Tagaro's honor may be made to the
Alzheimer's association in efforts toward the prevention of dementia at
https://www.alz.org/
.
Comments
Buffalo (Posted: May 27, 2021)
My condolences on the loss of Charles and Flora. If family members visit this site, I have created memorials for them in find-a-grave. Flora is #227800258 and Charles is #227799853. I read their story and felt they should be remembered. B
Roberta Relacion Gregoire (Posted: June 10, 2020)
My Aunty Flora and Uncle Charlie always treated me like their own daughter during my high school years when living with them at St Louis Heights in Honolulu. They were truly fun loving and loved dance and music. Aunty was a great cook & talented in sewing & crafts too...especially loved her German Chocolate Cake (and all her baked goods) and Lumpia. I loved their BBQs on their lanais and backyard family gatherings both in Honolulu and when they moved to their 2nd home in Washington. They will surely be missed by all who loved and cared for them...So many memorable family moments.. Much Aloha Always ....Peace and Love will always be with you.
Elaine Reyes (Posted: June 10, 2020)
I miss my uncle and auntie very much. Auntie was always the life of the party. She was a good cook and baker. We always spent New Years at their house up St. Louis Heights where we watched the fireworks! I had so much fun playing cards with uncle Charlie. We use to call him "crab eyes" whenever we felt he was cheating! They both will be missed! Love and Aloha! Elaine