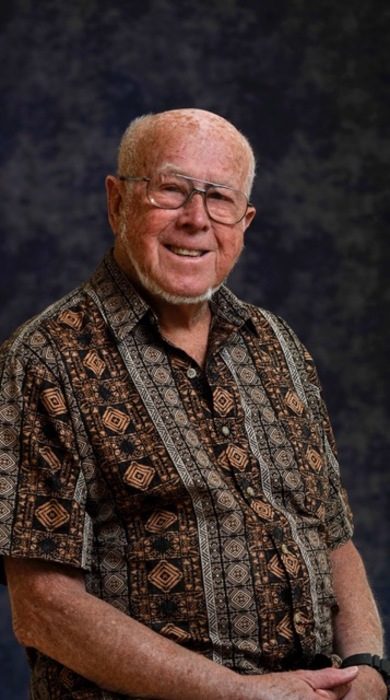 Alvin Branch Crane
Obituary
Alvin Branch Crane was born in Tacoma, Washington, "at a very young age" at White Shield Home for unwed mothers where his mother, Lena Branch Crane, worked on April 28, 1926. When Al was one, the entire family moved to Battle Creek, MI, where Lena's brother, Alvin Branch, was pastoring an Assemblies of God church.
Alvin lived in Michigan for 18 years and came westward because his sister, Irene, was going to Seattle Pacific College (SPC). Al had already completed a year of Tri-State College of Engineering and was just going to stay for one quarter, but ended up finishing his Bachelor of Science Degree in Math at SPC. He was a member of the Acapella and Oratorio choirs and was Senior Class President in 1947.
As campus photographer, Alvin became interested in education when he went to West Woodland Elementary to photograph classes. He saw an exciting learning environment and wanted to be a part of. His first teaching assignment was at Harbor Intermediate in Gig Harbor where he taught 8th grade for two years. He then taught in the Seattle School District for 28 years, which included 10 years as an elementary school principal. Soon after he started teaching, he went to church at Fremont Tabernacle with a friend, Don Johnson, and met Florence Swanson. It was on a double date - Don and Florence; Al and Cookie, that Al accidentally bumped into Flo, to which she replied, "Anytime!" Thus, a lifelong relationship began. After their marriage in 1950, Beverly followed in the next year. Stephen was born three years later and Carolyn three years after that. They settled in North Seattle, which was mostly wilderness in 1955.
Working weekends at Sears to supplement his meager teaching salary, Alvin became interested in being an electrician. First doing work around the house, then jobs for neighbors. After retiring from Seattle schools, he earned his journeyman's card and became fully qualified electrician.
He began a Master's program for the second time, but this time at Seattle Pacific College, graduating a year before Beverly in 1972. After he became a principal in Seattle Schools, (Seward, W. Queen Anne, and Latona Elementary), he retired and worked as an electrician. Ten years later, he accepted a principal-ship at Cornerstone Christian School where his daughter, Carolyn, was teaching. Al had the privilege of taking trips to visit his Assembly of God missionary sisters. In 1973, he took his family to the Dominican Republic to visit his oldest sister, Rachel, and brother-in-law, Einar Peterson. Later, he and his brother, Dave, took a trip to Nigeria to visit their other sister, Irene.
Al was an active person and included his family in many outdoor activities. Camping and water skiing at Alta Lake State Park in eastern Washington was a yearly event. In 1972 Al and Florence purchased a new Winnebago motor home and began touring national parks and traveling across the country. One of Al's favorite activities was snow skiing. He spent 25 years on the volunteer ski patrol at Snoqualmie Pass where he and Dave enjoyed skiing while helping injured skiers, actually, mostly skiing! Through his connection with the ski patrol, he and Dave went on several ski trips in Europe.
Al valued service to his church and loved interacting with and encouraging people. During his 63 years attending Shoreline Community Church, he served as choir director, Sunday School Superintendent, high school teacher, usher, board member, and song leader. Wherever Al and Florence went they shared Jesus.
He is preceded by his wife, Florence, his sisters, Rachel and Irene, and his brother Dave. He is survived by his three children - Beverly, Steve (Barb), and Carolyn (Mark); six granddaughters- Suzanne, Stacey, Lindsay, Leslie, Chelsea, and Lauren; and five great grandchildren.
Comments
Darrel & Marcia (Posted: June 23, 2019)
When our families met, seemed like we had known each other forever. A bond of friendship was made and never broken. Al loved life, his family, but his first love was the Lord. He walked the walk he talked. This Little Light Of Mine, I'm going to let it shine was his ministry in life. Our love and prayers.
Dave & Carol Podoll (Posted: June 23, 2019)
We first met Al at the Mountlake Terrace Pavilion Pool where he once swam on a regular basis. Al was a fine swimmer for sure, and even better at regaling the post-workout coffee drinkers with his wonderful wit, wordsmith mastery, and an unending sampling of the most corny jokes imaginable, and unparalleled groaners. Al was also one of the sweetest and kindest man we've ever had the pleasure of knowing. Everyone loved Al - everyone. The ladies found him so adorable that couldn't help but stop and give him a huge hug before they left. Al would smile happily, and soon joined with others in saying that he was indeed a "chick magnet". Al, in fact, reminded us of this fact the last time we visited him. Most importantly, however, we saw Al as a man with the aroma of Christ about him. In 2 Corinthians 2:14 we are told, "But thanks be to God, who always leads us as captives in Christ's triumphal procession and uses us to spread the aroma of the knowledge of him everywhere." Al walked with the Lord. We saw Christ in him. He blessed our lives.
Walt McCormick (Posted: June 20, 2019)
Al you were a good colleague and a good friend. We taught at Oak Lake School and Seward school for 13 years. I was the librarian and Al was the principal. During hard times in my life you prayed with me and my wife. I was always impressed with your devotion to God and were a fine Christian friend.
Bill and Janice Sherman (Posted: June 17, 2019)
To us Al was a very special person and will be missed. We knew Al for many years, but really came to know him when he came to visit us in Hawaii. Al and Bev came to Kauai for a 10 day vacation every year from 2011 to 2016. It was then that we came to really appreciate and enjoy Al. We will miss his unique jokes, camaraderie, and friendship. He was above all, one who really loved the Lord.
Gary and Joann Russell (Posted: June 14, 2019)
There is a friend that sticks closer than any brother. (Proverb 18:24) Al Crane was one of a kind. He and Florence were family to us for 49 years. We prayed together often. It was because of their prayers for us that our marriage was healed and restored through loving confrontation and mentoring. They prayed in faith and believed God for our healing and they never gave up on us. Because of Jesus in them we have been married now 63 years, and God is using us to touch other marriages. Al would often speak of his love of Jesus to others and was often heard saying, I gave them the whole ball of wax. Of course we knew that meant that he gave them the total message of salvation. Al was a loving example to our children. Many times he would call our children and ask if they would like to go water skiing or snow skiing with him. Our camping trips together made memories that were unforgettable. We recall the trip to Oregon together with our children, hiking in the woods and mountains. He quietly said to us, "watch this!". There was a ledge just over the edge of the cliff and Al said, "Hey Florence", and pretended to fall backwards off of the cliff as he jumped down on the ledge. It appeared that he was falling down the cliff. Florence hollered out, "Alvin!!! Of course Al laughed. He loved to tell our children of the different kinds of trees as we hiked together. A favorite little saying he would repeat as we hiked together was, "cedar, pine and balsam. (Another words, See the pine and bawl some.) One of the most unforgettable camping trips was to Mount Saint Helens just months before the mountain blew. We hiked Windy Ridge and met Harry Truman, the man who had a resort on Spirit Lake. He was a salty old man who was often quoted as saying he would never leave even though the mountain was about to blow. We shared the whole ball of wax with Harry and though he cursed God he heard the whole message of salvation. Before going to bed at night we would sit around a campfire and sings songs of praise to God, share stories of Jesus and pray. You are missed my brother, and look forward to worshiping our Lord together in never ending praise.
Cathy Crane Brewer (Posted: June 12, 2019)
What a sweet gift Hunky Alvin was to me and my family. My childhood memories include much time spent wit Al and Florence especially on the weekends we spent in Gig Harbor visiting Grandma Crane. Or at their home with tomato soup and grilled cheese sandwiches. The tight knit relationship of Uncle Al and my dad, Dave I am sure is how both of my parents came to saving faith in our Lord. By their individual relationship they set the example for my family of what it means for a daily walk and what a thriving Christian marriage looks like. My husband Steve and I looked to A&F for tips on how to Christian parent as well. His example to us both has continued thru these later years as we've watched him battle thru some tough health issues. He was in particularly intense pain in the hospital on one visit but even as he howled in pain he sang Ow-ow-hallelujah and began singing the Hallelujah chorus!!, In all of my 69 years of life I have never seen him in a bad mood and he was always thrilled to see you. Well, he has "earned" his eternity with his LORD. But we sure miss his sweet self. When we get to heaven I'm gonna love to see the line of believers who were somehow blessed by this very unique man. Great them all for us!!,
Renate Barnes (Posted: June 12, 2019)
I skied and swam laps with Al for many years. He was a lot of fun , had a good sense of humor and was always positive. I am thankful for the memories we have . He was a blessing to many. Renate Barnes Stephen Barnes
Vernon Peterson, nephew (Posted: June 12, 2019)
Being raised on the mission field, as children we only saw relatives every three years or so. Everyone changed as the years went on, but Uncle Al never did. In the Bible there are only a few individuals who nothing bad could be said about them, and in life, Al was also one about whom nothing bad could ever be said. He taught me that you can be godly and also have a sense of humor (it helped that he always laughed at my jokes, no matter how bad). I was blessed to live with him and Aunt Florence one year while I studied at the UW, and we had some great conversations around the breakfast table. One famous debate that lasted for years was whether a good offense was better than a great defense, or vice versa. Well, Al was always scoring points, so we know which side of the debate he was on. While this great man of God didn't go to the mission field as his two sisters, his own mission field was wherever he happened to be at the time. I am sure that in heaven there has been a great welcome reception by Florence, Rachel, Irene, Dave and Greg, along with the many other lives he touched and blessed. I know he will right up front to welcome me when it is my time. Thank you, Al, for everything.
Julie Etscheid (Posted: June 09, 2019)
Another sweet memory I have is when Carolyn was in the hospital giving birth to the twins, and there was a point when the labor was very difficult. We were in a circle praying in the next room, and the earnest prayer of a father for his children came forth from Al. I remember him saying the phrase "Lord, we are grabbing the horns of the alter," an Old Testament reference. I don't remember what else he said, but I was deeply moved by his hearfelt prayer. At church, Al was always praying with people who needed it, myself included.
Julie Etscheid (Posted: June 09, 2019)
My brother, one of Al's sons-in-law, thought it was alright to share this funny memory. Sometime around the early 90s, I was coming in late to church, and Al was greeter that morning. He was wearing this beige turtle neck sweater that went up really high on his neck that morning. He must've saw that I looked tense from being late, so he gave me a good laugh and said that the combination of his bald head and the sweater made him look like a human roll-on deodorant. That certainly did the trick! I will miss his humor.
Larry Peterson (Posted: June 07, 2019)
My gregarious uncle Alvin to me, I'm reminded of black & white in my preteen years. The 1950's was like that. Black & white photos of him traveling from Seattle to his parents little farm in Gig Harbor or visiting my parents in Tacoma. Then as I grew to adulthood and his family grew I'm reminded of color photos. It's a vivid memory of Thanksgiving or Christmas dinners at Al and Florence's home. He would shove his spectacles onto his head and take on all challengers at ping pong. It seems to me also, that he was a "go to" guy when a prayer of any need - dinner, family, sickness or health - was asked for. Also, let's not forget his famous Spanglish - "hasta labago" dear uncle Al.
Olene O'Dowd (Posted: June 07, 2019)
I recall meeting this sweet, short little man with the his smile that warms you. He lived a good life and was loved by all. How blessed are his family that had him for such a long time and I am happy that I got to share his friendship. Am sure the Lord is waiting for him with open arms - Que te vaya bien, amigo.