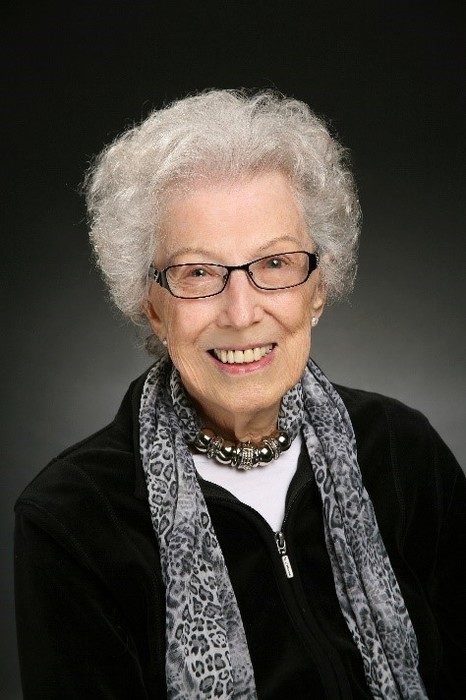 Irene McDonald
Obituary
On January 13, 2021, at the tender age of 95, Toby was called home to be with the Lord. She started life on October 23, 1925 in Buffalo, NY, born to Boleslaw Skarupinski and Jennie (nee` Tomkowski) Skarupinski. She outlived all 12 of her siblings. In addition to her parents and siblings, Toby was also preceded in death by, her new born son, Gerald Edward McDonald 1960, her step-father Stanley Krankowski 1971 and her loving husband Gerald E. "Mac" McDonald 2011. Toby met Mac in Long Beach CA and they were happily married for 54 years. Toby is survived by her daughter Linda McDonald Witt (Wesley Witt) of Redmond WA, two step-daughters Debbie McDonald of Kotter AR and Marti Brewer Hemet CA, four grandchildren, seven great grandchildren and one great great grandchild.
Toby and Mac moved from California to Washington to be closer to their daughter Linda's family in 2001. Toby loved spending time with her grandchildren Sarah and Zach. She had a passion for playing golf and enjoyed spending time on the golf course with both Linda and Sarah, sharing valuable girl time together. Both Toby and Mac, loved to play bridge. Each were Life Masters and played regularly in duplicate bridge tournaments.
Although late in life, Toby came to know the Lord through Bible Study Fellowship. She was a member of Covenant Presbyterian Church in Issaquah. Through her faith in Jesus Christ, her family has the assurance that we will all one day be together in the presence of the Lord. Praise God!
Comments
Pauline Jennings (Posted: January 24, 2021)
I love this photo of Toby. It shows her humor and zest for life. I came to love her through our church and our Lois Ladies luncheons which we often attended together since we both lived at Providence Point. She often talked of how good her family was to her and loved those grandchildren and greats. I have missed our faith conversations and laughter together. She was an amazing woman and good friend. My prayers and sympathy continue for her family, but there is joy in knowing she is healed now and with our Lord.
Heather Humphrey (Posted: January 23, 2021)
I love this picture of Toby. She had a beautiful smile and a brave and cheerful spirit. She always made an effort to come with her walker to our Lois Ladies luncheons even when it was hard for her to move around. I understand that she gave quite a few people at Fairwinds a run for their money playing bridge! I will always remember and admire her perseverance and brave spirit in the face of life's challenges. "Precious in the sight of the Lord is the death of His saints." Ps 116:15
Sandra Fullington (Posted: January 23, 2021)
Remembering Toby brings a smile to my face. She had intelligence, wit, a generous spirit & I don't believe I ever heard her complain. There was a regal ness about her even when help with walking became necessary. I enjoyed conversing with her at church when we could be one on one. She loved her family and appreciated your love & care for her. I know she loved the Lord and coming to worship Him and now she is in the place of endless worship in the perfect church!
Elaine De Lappe (Posted: January 23, 2021)
Although I only knew Toby for a couple of years, I grew to love her. Her sense of humor was delightful and her love of the Lord was obvious. Because she lived just down the hill from me I was lucky to drive her to a few of our Lois Ladies lunches. It was always a good time of fellowship. She was a wonderful, brave, beautiful woman.
Dana Kvarnstrom (Posted: January 23, 2021)
I only knew Toby for a few years but really enjoyed her delightful smile and her zest for life. What a privilege her friendship has been to me.
(Posted: January 23, 2021)

Mary Kaye JOHNSTON (Posted: January 23, 2021)
Toby, as we knew her in our ladies group, was always cheerful and interesting. We enjoyed our luncheons together and was so thankful that Linda would occasionally drive her to our gatherings. We visited her when she was a resident at Fairwinds. She invited our ladies group (Lois Ladies from Covenant Presbyterian Church)to her dining room for some delicious luncheons. What a very special thing for her to do. The food at Fairwinds was so good and it was very generous and gracious of her to invite us several times. We will miss Toby, but are comforted to know she is with her Lord.