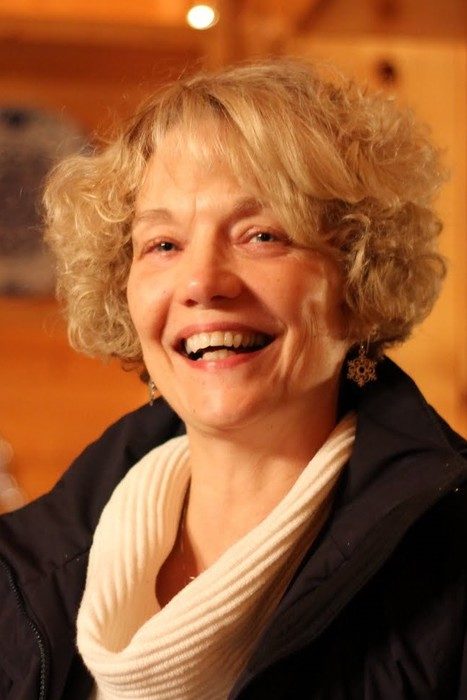 Ruth Anne Herzog
Obituary
Ruth Anne Herzog, age 65, passed away peacefully at home on Wednesday, November 27, 2019, after a brief battle with cancer. Ruth was born February 17, 1954 in Detroit, to the late Arthur and Charlotte (Welsh) Papst. She spent her childhood in Stamford, CT, then returned to Michigan in 1972 to attend Oakland University where she earned her degree in Russian language and literature, and also met her husband.

On October 9, 1976, she married Jacob F. Herzog, in Frankenmuth, Michigan. After a six-week honeymoon camping throughout many western states and prayerfully considering where to settle, they decided on the Seattle area. Ruth and Jake purchased their first home in Carnation, WA in 1978. In 1982 they built a log home in the woods near the neighboring town of Duvall where they raised their four children. Ruth spent many wonderful years there as a homemaker. She loved being a mother and grandmother, and was a mother to anyone who needed one, wholeheartedly welcoming her children's friends into her home. Ruth will be remembered for her steadfast faith, encouraging spirit, compassion for others, fierce loyalty, unabashed honesty, and twinkling blue eyes.

Ruth is survived by her husband, Jacob; her children, Aaron (Kelsey) Herzog, Rebekah (Jason) Pearson, Sarah (Samuel) Kauzlarich, and Seth (Ashley) Herzog; her six beloved grandchildren, Elias, Ella, Ezra, Judah, Clara, and Leo; her siblings, Carolyn Tymula, Charles (Janet) Papst, and Richard (Laura) Papst; brother-in-law, Neil (Ruth), Herzog; and many nieces, nephews, and cousins.

A celebration of Ruth's life will be held at the Riverview School District auditorium, 15510 1st Avenue NE, Duvall, Washington on Saturday, January 4, 2020 beginning at 2 p.m.
Comments
Mark & Tarie Smith (Posted: January 05, 2020)
We are so very saddened to hear of your loss. So many fond memories of Ruth from both Carnation Bible Church and Valley Foursquare. Our hearts and prayers are with you Jake and family.
Joe Micheals (Posted: December 17, 2019)
Condolences Jake. May God's peace that passes understanding be with your family.
Margie Coy (Posted: December 15, 2019)
Ruth's beautiful smile & oh so sense of humor & her beautiful capacity to laugh & be silly has always touched my heart and encouraged me to carry on when things are difficult . she has always been a true woman of Christ and has truly led by her shinning example , 💜she loved well , and was truly loved by so many 💜
Angie (Posted: December 13, 2019)
Jake, I am so sorry for your loss. Praying God's peace and comfort for you and your family.
Celeste Pettijohn (Posted: December 13, 2019)
Praying for you all Jake. Ruth was a lovely woman and even though I didn't get to spend much time with her while working with you I really enjoyed her personality. I'm so sorry for your great loss and will be lifting you all up in prayer.
Donna Totey (Posted: December 13, 2019)
Jake, I'm so sorry. I know you and your family must really feel the loss. I'll be praying for all of you.
Nick Beyer (Posted: December 13, 2019)
Jake and family, very sorry for your loss. Keeping you in my prayers.
Wendy and Robert Poellet (Posted: December 11, 2019)
Jacob and family: Sorry to her about your wife, mother and grandmother. She sounds like she was a wonderful lady. I'm sure she will be greatly missed. So sorry for your loss.
Linda Babechenko (Posted: December 10, 2019)
Rest in God's Peace Ruth. Jake & family may God's Peace and Comfort fill your hearts.
Dawn Alwin-Andrew (Posted: December 10, 2019)
Dear Sweet Ruth, I will never forget you and your beautiful heart. I will always fondly remember all our Church memories and the fabulous gatherings in your beautiful home. Sincere condolences to Jake and family and friends! :'( xoxo
JoAnn Kauzlarich (Posted: December 10, 2019)
She will be missed. Loved her smile and her laughter. Sweet Ruth.
Rachael Scott (Posted: December 10, 2019)
Ruth, you were kind and generous with me always. When I was 10, you gave me a book on Russian language and shared your passion for Russian literature with me. I think of you when I read Pushkin's poems on the original. Your gift left a huge mark on my life and heart. Thank you! My deepest love and sympathy for the Herzog clan.