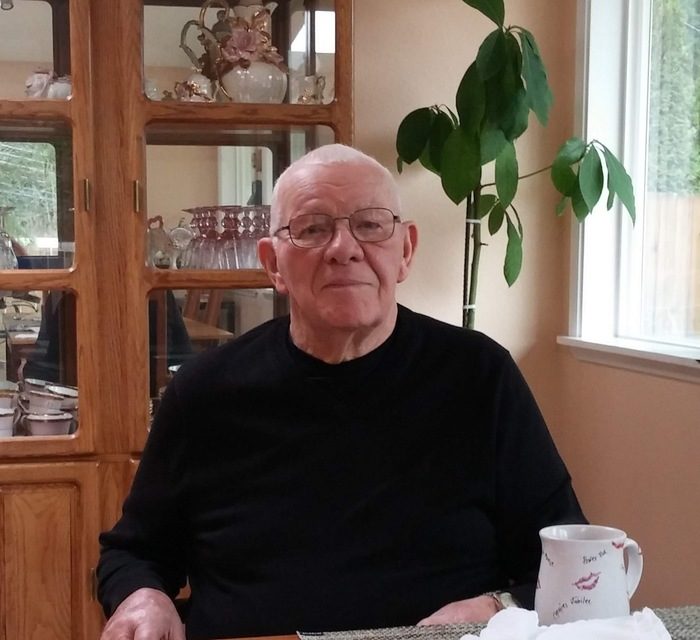 Charles Matthew McGarr
Obituary
Charles Matthew McGarr (Chuck), 86 of Bellevue, WA., passed away on October 25, 2022, at home. He was the husband of Ginni McGarr. They shared sixty-eight (68) years of marriage and raised four (4) wonderful children,
Chuck was born in Tacoma, WA and was the son of Joseph & Mildred McGarr. He graduated from Lincoln High School in Tacoma, WA. He was an outstanding salesman who loved to interact with people and was a volunteer firefighter.
He was a member of Antioch Bible Church in Redmond, WA and until he was disabled, he volunteered with his wife Ginni weekly in the Church office. He was a man of God and family and lived his life to serve them in everything that he did.
He is survived by his wife Ginni McGarr of Bellevue, WA., and children Janna Kellogg (Clifford) of Ellensburg, WA, Joseph Charles McGarr (Rhonda) of Jacksonville, FL., Darla Younce (Dave) of Everett, WA. & Debbie Lee (Mark) of Everett, WA., four (4) grandchildren and six (6) great-grandchildren.
A celebration of his life will be held at a later date for all those who wish to express their condolences to the family.
Comments
Norm & Sharon Olsen (Posted: December 15, 2022)
We remember a lot of fun times as a neighbor of Chuck and Ginni as the kids were growing up. Fishing in the Sound and eating at Dick's drive-in on the way home. He was a great salesman, always cheerful and upbeat.
Darla Younce (Posted: November 02, 2022)
Dad, I am so proud to be your daughter. You were always my hero. I miss you and love you and will see you again in heaven
Nic Younce (Posted: November 02, 2022)
Love you Grandpa!