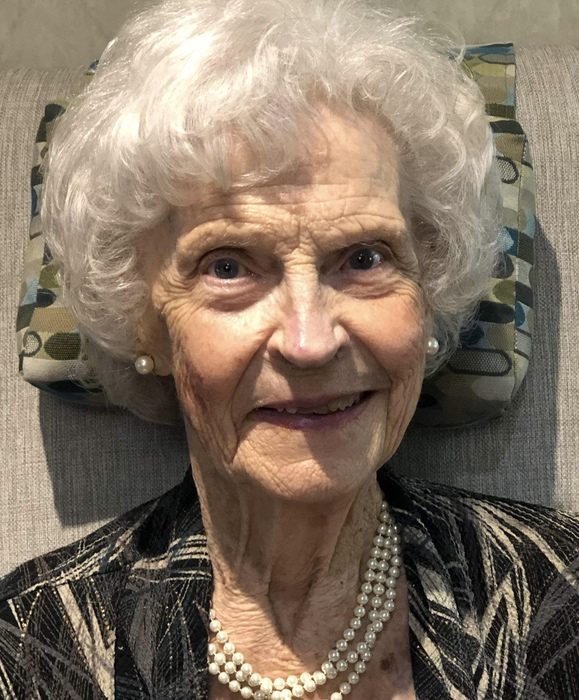 Myrtis Lorraine Petersen
Obituary
Myrtis Lorraine Petersen passed away peacefully surrounded by her children on September 6, 2022, one day before her 94th birthday.

Myrtis was born on September 7, 1928 in Fargo, North Dakota to Dr. Henry and Anna Ness. She graduated from Lincoln High School in 1946. Shortly after that she worked at Bell Telephone Company for several years. In 1949, she married Paul Andrew Petersen, and they had four children together. They spent most of their 63 years of married life living in Clyde Hill, WA.

Throughout their marriage, they attended Calvary Christian Assembly in Seattle, where they had met as children. Myrtis served as the Sunday School Superintendent there for many years. She and her husband, Paul had an active social life with many other couples from Calvary Christian Assembly who had also married in 1949 shortly after WWII ended. They called themselves the "49ers."

Myrtis was a woman of deep faith and commitment to Jesus Christ. She will be remembered for her servant's heart, endless patience, elegance, abiding joy, and kindness to all. Her family will always remember and cherish her gift of hospitality as she hosted family and friends on many occasions at her home in Clyde Hill throughout the years. On one occasion she even hosted an entire church basketball team from Oregon overnight, where they had a slumber party in her basement.

One of Myrtis' favorite things to do was to babysit her grandchildren. This allowed her kids and their spouses to have romantic weekend getaways on their anniversaries, or just go out to dinner or to a Mariner game. This was such a gift and a tremendous blessing to them. She also loved spending time gardening and was a part of local garden clubs. Another thing she enjoyed doing was spending time with relatives at the family cabin on Bainbridge Island during the summers.

In her retirement years, she and her husband, Paul spent 20 years as "snowbirds" in the Palm Desert area. She enjoyed golfing, swimming, and spending time with family and friends. One of her and Paul's favorite activities in the desert was to play games with their friends such as Mexican Train, Hand & Foot, etc.

Following the passing of her husband, Paul, the last nine years of Myrtis' life were spent at Covenant Living at the Shores on Mercer Island. While there, she remained the "glue" that held the family together. The extended family enjoyed many parties and events hosted at their facilities.

Our family will be forever grateful to God for the gift of Myrtis' life as our mother, grandmother, and great grandmother. She taught us that the fear of the Lord is the beginning of wisdom (Proverbs 9:10). She also taught us that by committing our lives to Jesus Christ, we would spend eternity with Him. We are very thankful for the assurance that she is now with her Lord and Savior, but she will be greatly missed by those left behind.

Myrtis was preceded in death by her husband, Paul, and daughter, Cheryl Wedeking. Myrtis is survived by her three children, Paul Petersen Jr. (Kappy) of Bellingham, WA, Janine Ridings (Dean) of Snohomish, WA, and Pam Werline (Dave) of Phoenix, AZ. In addition, she has 10 grandchildren and 9 great grandchildren.

A public Celebration of Life service will be held at Calvary Christian Assembly, 6801 Roosevelt Way N.E. Seattle, WA 98115 on Saturday, September 24th at 1 p.m. Memorial gifts may be made to the Northwest University Henry Ness Student Scholarship Fund.

Comments
There are no comments available.