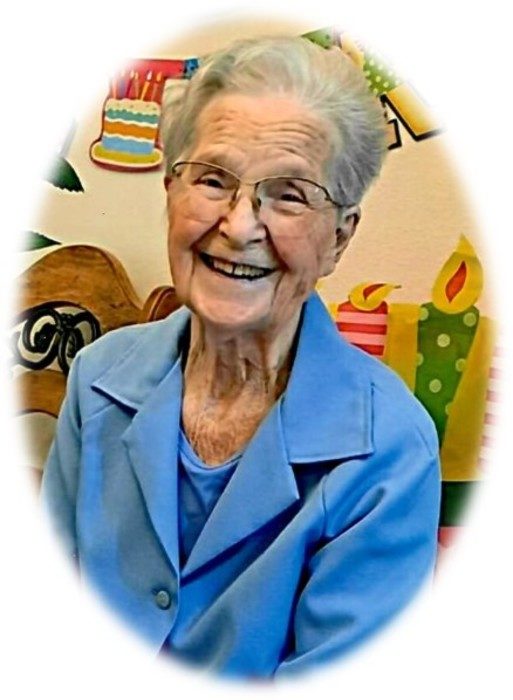 Lila (Byram) Carder
Obituary
Lila Carder passed into the arms of our Lord and Savior on October 2, 2021, in Everett Washington at the age of 98. Beloved wife, mother, grandmother, and great-grandmother, she was born in Loveland, Colorado, on April 30, 1923, to James Newton Byram and Elva Iona (Barton) Byram. She was one of twelve children, which included her twin sister Lela (Byram) Kropf. Lila resided in Chanute Kansas for seventy-eight years, from the age of fifteen to ninety-two, when she relocated to Washington State to be near family. Married to Albert Ray Carder on March 28, 1941, in Independence Kansas, the couple had two children, Beulah Bell (Carder) Stephens and Leon Ray Carder. Lila took great pride in researching genealogy and staying connected to her rather large extended family. Lila was a gifted seamstress and hand-made nearly all her clothes. She enjoyed knitting and crocheting, a skill she passed on to many loved ones in her family. She had a meticulous focus on being organized, which, along with her attention to detail, served her well in gardening and meeting the needs of those around her. As a nurse's aide in her early years, she became keenly focused on researching healthcare options, which proved to be invaluable to friends and family alike.
Lila is survived by her son and daughter-in-law, Leon Ray Carder and Linda (Elliott) Carder of Everett, Washington; three grandchildren, Sharon Stephens of White Bear Lake, Minnesota; Loria (Carder) Preston and her husband John Preston of Everett, Washington; Leonard Carder and his wife Michele (Duenow) Carder of Bothell, Washington; and five great grandchildren, Rachel Preston, Alexander Carder, Peter Preston, Alyssa Carder and Rebekah Preston.
Lila was preceded in death by her parents and all eleven siblings; husband, Albert Ray Carder; daughter, Beulah Bell (Carder) Stephens, and two grandchildren, Stacy Ray Stephens, and Gregory Michael Stephens.
Lila's family and friends will celebrate her life with two services in Kansas and Washington State:
A graveside memorial will be held at Mount Hope Cemetery in Humboldt on Sunday, November 21st at 2pm CST, followed by a gathering at the Faith Assembly of God Church in Humboldt.
A memorial service will be held at Cedar Park's Chapel of the Resurrection in Bothell, Washington, on Saturday, November 27th at 2pm PST (4pm CST). This service will be broadcast via the Chapel's Facebook page. There will be a dinner gathering at Leonard and Michele's home in Bothell immediately following the service.
Comments
Matt (Posted: November 21, 2021)
I am so sorry for your loss, Lila was very sweet to me all of the times I saw her and always will rember the kindness and love I felt just from meeting her for the first time. I do not have many memories of her but the ones I do have will be cherished.