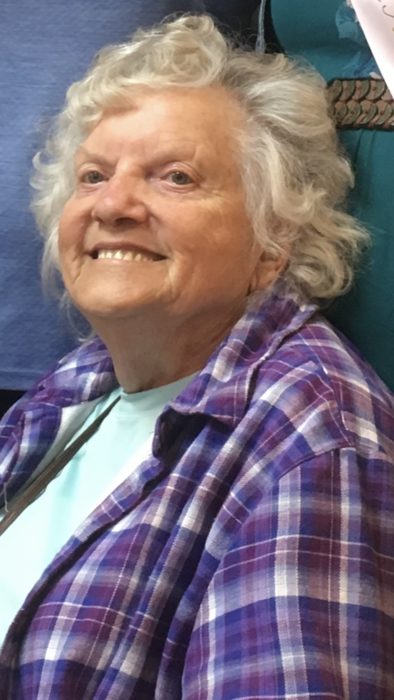 Margaret Brannick
Obituary
Margaret Mae Moshier Vacknitz Brannick was born in Sisseton, SD on November 24, 1929 to Leonard and Loretta Moshier, the 3rd of 10 children. In 1942 the entire family made the pilgrimage to Bothell, WA. As a teenager, Margaret dropped out of school and found a job at Woolworths department store in downtown Seattle. She loved to tell stories about using early public transit.
Not long after the war, Margaret met and married Leonard Vacknitz, becoming mother to his young daughter Sandra. Margaret and Leonard moved to what was known then as the Moorlands. In a small house they built a home and welcomed Martha, Debora, Dale, Wayne, and Michael (Walter). In 1965, Leonard tragically died during a hunting trip leaving Margaret to raise their 6 children on her own. She found work at Boeing enabling her to support herself and 6 children for the next 3 years. When not at work she was taking her nieces and nephews to church with her family. Times were hard but Margaret relied on her faith in God, love of her children and extended family to see her though. Sandra and Martha became of age and struck out on their own.
In 1969, Margaret married a longtime friend, William Brannick, who had a young daughter Shari Key. Three years into their marriage Margaret and Bill welcomed an 8th child, Mary, to their blended home. In early 1972, Margaret and Bill made the decision to leave Seattle to find work.
The nature of Bill's work and the economic situation in the country at the time saw the remaining family start a life on the road. They saw many of nature's great wonders and experienced a life not known by many. During this, Margaret saw her family grow with the addition of grandchildren: Sandra welcomed Kimmi and Eddie; Martha welcomed Tammy, Denise, Derek and April; Debora welcomed James and Patricia; and Wayne welcomed Toshca, Tomeeka, and Tolisha to her loving family.
In 1983, Margaret and Bill moved back to Snohomish, WA, where Margaret seemed to find her calling as a Pre-School Teacher. She would spend the next eight years enriching young lives and sharing her love for God. Through the decade, all of the children followed them back to Washington. Margaret and Bill enjoyed a happy life spending time with their 'first set of grandchildren' and extended family.
As the 1990s got underway the family grew more: Patricia welcomed William and Mona Marie; Dale welcomed Dale Jr; Wayne welcomed Stephen, John, Amanda Sue and Joshua; and Mary welcomed Kimberly. Margaret spent as much time as possible with her ever growing family. She was a woman of faith and ensured that all of her family knew Jesus. She set the example by ensuring that the pastor received the 'first fruits of her family's labor. Sometimes this was in the form of King Salmon, the first strawberries from her garden or her afternoons answering phones in the church office. Margaret relished the large family events and holidays.
As the millennium dawned, Margaret was steadfast in her faith. She was a true matriarch, teaching her 'second set' of grandchildren to serve the Lord. She was blessed with even more additions to her lovely family; 17 more grandchildren, great-grandchildren and spouses make an enduring legacy to a strong beautiful woman.
On May 17, 2022, Jesus escorted Margaret home to join her beloved husbands and children who passed before her.
Comments
Joyce Stanley (Posted: June 17, 2022)
A beautiful service for a beautiful lady. And planning part of her own service (the music I know for sure). She will be missed but she was so loved. Prayers Mary for you and family. Thank you for sharing your mom with me.