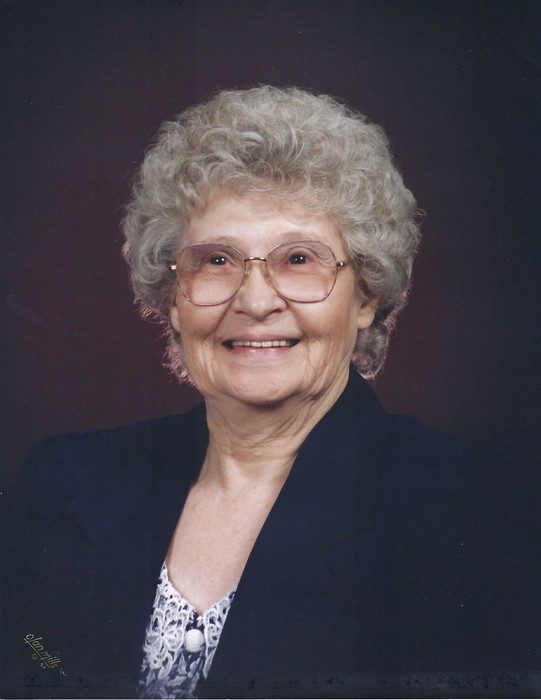 Effie "Jean" Wikel
Obituary
Effie "Jean" Wikel
Seven children lost their mother, fourteen grandchildren lost their grandma, and 25 great grandchildren lost their great-grandmother when Effie Jean (Powers) Wikel, age 92, passed away on Friday afternoon, October 9, 2020. She was just 22 days from reaching her 93rd birthday.
Effie, known to her close friends and family as "Jean" or "Jeanie," was named after her own grandmother, Effie Mable Alexander Bates, and her grandfather, Eugene (Gene) Tullis Bates. She was born on October 31, 1927 to Nita Viola (Bates) Powers and George Wesley Powers. She was the last remaining of her seven brothers and sisters: Georgia Jennings, Clinton Powers, Viola (Mildred) Knight, Virginia Jennings, Wesley Powers, Tommy Powers, and Connie Spielman.
Her husband, Frederick Charles Wikel, also preceded her in death. She is survived by seven children: Carole Johnson of Marysville, WA; Patricia Wilcox of Lodi, CA; Curtis Wikel of Bothell, WA; Sharon Miller of Arlington, WA; Roberta Chaffins of Lake Stevens, WA; Laura Nelson of Coeur d'Alene, ID; and David Wikel of Lake Stevens, WA.
Jean was born in Davidson, Oklahoma, and her family later moved to Texas, where she was a member of the 1945 graduating class of Muleshoe High School, Muleshoe, Texas. Later, while living back in Oklahoma, she met and married Fred in 1953. By this time, family members on both sides had migrated to the Pacific Northwest for jobs, so they followed suit. Ultimately, Jean and Fred made their home in Bothell, Washington, just outside of town.
Jean was a strong, independent, smart, and capable woman who still had six children living at home when her husband died at the early age of 49. While she had previously been a homemaker and held various jobs in the community, the family was dependent on her after Fred's passing, so she attended classes at Lake Washington Vocational College and earned a Certificate in Accounting. Subsequently, she obtained a job at Safeco Insurance, where she worked until her retirement.
She regularly attended the Kenmore Assembly of God Church in Kenmore, Washington for a number of years (now known as Cedar Park – Northshore). She was an active participant in the "Senior Lunch Bunch," and served as secretary to track their member's contact information and birthdays. The computer was her friend and she used it in the aforementioned listing of contacts, as well as a communication tool. Even in her last year of life, at the age of 92, she was able to play various games on the computer to entertain herself and check Facebook to monitor the activities of family and friends.
Those who know her would all agree that she was a great cook and could conjure up delicious meals using whatever she had on hand. She was known for her desserts and you could rely on being offered a cookie if you stopped by. Her hospitality was contagious. She will be missed by all who loved her.
Comments
Jim Wikel (Posted: June 19, 2022)
My Aunt Jean. I have fond memories of when my parents, myself, and my two younger sisters would go over to her and Uncle Fred's house on Saturday nights. All of us kids would play and get into mischief while the grownups played dominos.
Patricia Wilcox (Posted: January 01, 2021)
I find myself more like mother than I want to admit . I'd go up every year and mom would plan something for us to do. Senior lunch bunch , Christian Womens club or whatever!! Me. Dave and her would go to lunch, we would watch movies . When she started slowing down I sure missed her . Mom is the best ! Even in her late 80's she joined the women's group at Lake Stevens Assembly of God . I still visit her church when I visit Lake Stevens
Randy & Holly Powers (Posted: October 22, 2020)
Sorry to here about Jeanie passing, she will be missed , she was a tough and resilient lady just like her whole family was. Grandpa, Grandma Powers raised a good family. Aunt Jeanie also raised a fine family as well .
Joel Rodacker (Posted: October 16, 2020)
My Grandma, was funny, smart and always made me laugh. She was sassy, and witty. You will forever be missed.
Laura nelson (Posted: October 15, 2020)
I had the best mom. So loving and caring I am so blessed. I love you mom rest peacefully.
Mary Compin Cecsarini (Posted: October 14, 2020)
I was saddened to hear of Mrs. Wikel's passing! She was my second Mother growing up. Our Family met the Wikel's at Kenmore Assembly of God. Carole and I became good Friends around 1956. After Sunday Church service I would go to The Wikel's for lunch. Mrs. Wikel made the best Tuna Noodle Casserole I have ever had. Even though she had a number of Children there was always room for one more! She is now in the arms of the Lord and no longer in pain! She is rejoicing with my Mom who passed away at the age of 93 seven months ago! They were friends for many years. I love you, Mrs. Wikel and one day will see you again!
Jay & Rose Rodacker (Posted: October 14, 2020)
Beautiful tribute. I was lucky to have adopted myself into her live. Married to one of her grandsons, I gained a grandmother. She always made me feel loved, welcomed and nothing less. She left us with great stories of her upbringing, memories of raising her kids and enough love to sustain us until we meet again. We love you grandma. Jay & Rose
Angie (Posted: October 14, 2020)
"Can't never could do nothin" great tribute. ❤️