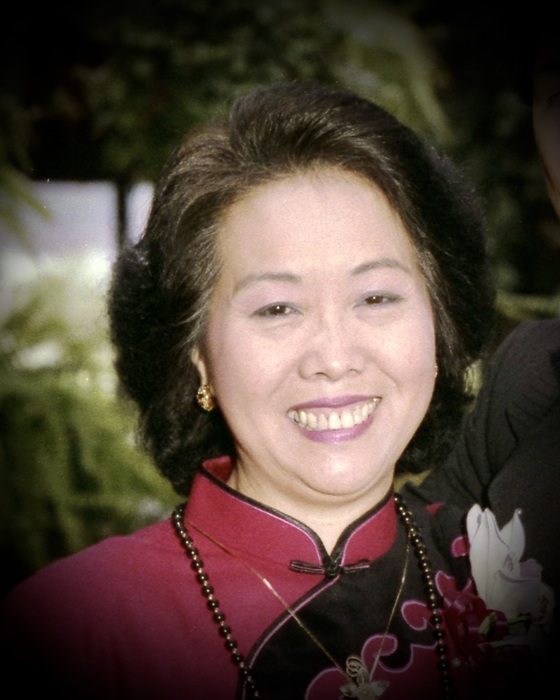 Betty Siao-Yung Hu
Obituary
Betty Siao-Yung (Ho) Hu, 86, trailblazing chemist and loving mother and grandmother, passed away on June 16, 2020. With her beloved husband John Chih-An Hu, she had seven children who will forever miss her care, kindness, and wisdom: Arthur (Jenny), Ben (Janet Tipping) Carl (Catherine Smith), Dave (Sharlene Wang), Eileen (Tony Chun), Franklin, and George (Carrie).
Her love of God and family ran deep. She valued faith and education and fostered her family's commitment to both. Nothing made her happier or prouder than the academic achievements of her children. All of them played multiple instruments, were part of Seattle Youth Symphony, and were excellent students who graduated from either Stanford or MIT. She was a lifelong traveler who loved being close to nature. She and John loaded up their family of 9, packing with army precision, into what would become the trademark green VW van for camping trips all over the west. In later years, she took an epic RV trip across the country with Franklin and many glorious cruises with family.
Betty lived an extraordinary life. She and her twin sister were born to Lung-Ching Ho and Shih-Lan Hsiu on February 3, 1934 in Fuling, Chongqing, China. Her sister died as an infant and her mother when Betty was 7, but her father married Shih-Lan Hsiu's sister Shih-Wei and the family was blessed with two boys (Johnny and Danny) and two more girls (Anna and Julie). Her father, a general in Chiang Kai-Shek's army, was transferred several times during Betty's childhood. She grew up in Szechuan, Nanking, and Shanghai.
Betty was 15 when the communists gained control of mainland China, compelling her father to send most of the family to Taiwan. They were able to catch the last flight from mainland China to Taiwan although Betty almost missed the flight since she had gone to a movie with her friends!
The entire family was eventually reunited in Taipei, where she excelled in school and earned a 4-year scholarship to Catholic Immaculate Heart College in Los Angeles. Her parents, whom she remembered for their love and generosity, treated all their children equally during a time and in a culture that often did not afford daughters the same opportunity for education.
China's need for scientists motivated her to study chemistry during her college career in Los Angeles. She was also motivated to improve her English; to accomplish this goal, she took a job as an usher at a Hollywood theater.
She met her future husband John at a college dance for Chinese students. He was attracted to Betty's beautiful singing voice, and she impressed him even further by correctly answering his question about the chemical formula for alcohol. She was attracted to his good looks and admired his education as a scientist. They married in 1956 during her sophomore year of college and honeymooned on Catalina Island.
She became pregnant while still in college and, making a choice that was not common in those days – she stayed in school. Arthur was born during summer vacation, and a year to the day later, Ben arrived. By the time she graduated, she had a 3-year old, a 2-year-old, and was pregnant with Carl, their third son.
Even while managing their growing family, Betty went to work as a medical chemist after graduation. After David was born, she took a job at a chemical company and continued working with what they thought would be their 5th child. They were surprised and delighted when she delivered twins, their 5th and 6th children, Eileen and Franklin.
Even with the awesome responsibility of caring for their very young children and managing the household, her love of family deepened daily. As a faithful woman, she saw her children as God's best blessing, and she adored motherhood – something else at which she excelled. John confessed his pride in choosing a wonderful wife and mother to his children.
John was drawn to Seattle in 1966 by its clean air, low crime, and good schools. He drove to Seattle in the Volkswagen Beetle, and the rest of the family followed by train. Betty would sometimes marvel, "I didn't lose a single child!" The family settled in Renton, and John worked at Boeing's Renton plant.
Betty went back to work when George, their 7th child started school. She found another job she loved and excelled at, this time teaching remedial math to students for decades in the Kent School district. She even wrote an unpublished book on finger math (Chisanbop). Her students adored her, and she was honored by the school district for her dedication and skill.
The last few months had been a struggle for Betty because of complications of Parkinsonism, which she fought with bravery and determination. Yet, she had expressed to her son Ben that she was happy with the way her life had turned out and was at peace with what was to become inevitable. She was looking forward to walking with God, her spirit freed from the confines of a failing body.
Betty was preceded in death by John in 2001 and her brothers Johnny and Danny. Following John's passing, Betty lived in Redmond near most of her family and more importantly most of her grandchildren whom she cherished. She later moved to Madison Retirement House in Kirkland where she made many friends, enjoyed sharing slideshows of her many adventures traveling, organized bible study groups and sing alongs. She enjoyed life at its fullest and as recently as late January enjoyed a cruise to the Mexican Riviera with several of her children where she was part of the winning Beatles Trivia and Escape Room teams.
She is survived by her seven children and 20 grandchildren: Eric, Peter (Samantha), Henry, John, Price, Ciara, Cindy, Abby, Ellen, Anne, Alex, Brevan, Coby, Michael, Steven, Kevin, Brandon, Sophia, Andrew and Beth.
Betty is dearly missed but will forever be in our hearts. She exemplified living life fully and lovingly. Her family will celebrate her life at Chapel of the Resurrection June 26, 2020 followed by committal at Kirkland Cemetery.
May She Rest In Peace.
Comments
Daphne Howard (Posted: June 23, 2020)
Your mother was an amazing trail blazer and an excellent role model for all women. I was blessed to have her as an aunt. Prayers and love to you all.