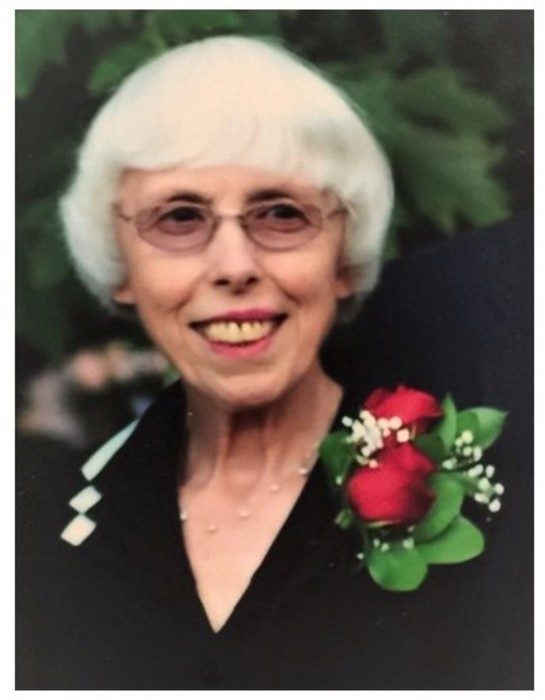 Sheila Elizabeth Jarvis
Obituary
Sheila Elizabeth Jarvis, age 91, died peacefully in her sleep on September 6, 2022. She was born on March 16, 1931 in Guildford, Surrey, England to Dorothy and Rudolph John Ahern. Her family moved to Eversley, Hampshire where they owned and operated the village shop. As a child she grew up playing the piano and had a beautiful soprano voice. She loved music and hymns all her life and together with her sister Joy and brother John they would often perform for family and friends. She could have had an operatic career but was sidelined with severe pneumonia putting her in a wheelchair for many months. She later met Maurice Jarvis at the local village youth group dance and they were married in Eversley church on June 14, 1952. They had two children, Vanessa and Paul, moving to Twyford and then Bagshot. Sheila was a stay at home mom but also worked in the local school occasionally and was a board member of the women's Connaught club in Bagshot. In 1967 she and the family emigrated to Seattle where Maurice worked for Boeing. Sheila worked as a teacher at a preschool in Tukwila for a year and in 1968 fulfilled her dream of opening the Sheila Jarvis Christian Preschool in the basement of their newly built Kingsgate home in Kirkland. Her preschool was always full with long waitlists and she credited it to her trusting God for everything. She touched and molded many young lives and families through her love of teaching and interacting with students and sharing her love of Christ with them all.. When forced to close her preschool due to breast cancer she found ways to continue her love of teaching by volunteering with Cathy Hink at the local kindergarten, where she was an invaluable asset and resource to both teacher and students. Several years later she became a fulltime caregiver to husband Maurice for the final years of his life. During the COVID pandemic she moved in with her granddaughter Rachel and family and was able to impart her passion and love of Jesus and teaching again to her grandchildren Leif and Irene while helping to homeschool them.
She lived a full and rich life entertaining friends and relatives and travelling to many places including England, Ireland, Scotland, Israel, Canada, and around the USA. She loved to have family visit from England and share the beautiful sights of Washington, Oregon, California, or Hawaii, or would travel with Maurice for his work. She was very generous and bought a house in Canada for her brother to live in. Sheila and Maurice became involved with the local square dancing club and she took on many jobs including secretary, newsletter editor and then co-president, with husband Maurice, of the Woodinville Toe Stompers group for five years. After they sold their Kingsgate home, they moved to Madison house where Sheila became Maurice's full time caregiver and also an ambassador to greet and welcome new residents, and after Maurice's passing she formed a much needed bereavement support group. She was always eager to share and help others and enhanced the lives of those around her.
Sheila was a loving, caring and generous wife, mother, sister, aunt, grandmother, great grandmother, and friend who loved life and the Lord and having her family around her. She loved to tell stories about her experiences and life in England and as a child growing up during the war years. She was always ready to help and offer advice to her family and friends, and was a very proud grandmother and great-grandmother who enjoyed going to family members' soccer games, swim meets, activities, and concerts.. She was always eager and willing to share her love of the Lord and was a very active member of Cedar Park Christian Church. She will be greatly missed by all whose lives she touched. She lived a Christ-centered life and aspired to be an example of His love in the world. She tried to impart that love to others through everything she did and said.
Sheila was preceded in death by her husband Maurice and her brother John Ahern. She is survived by daughter Vanessa (Mike) Olson, son Paul Jarvis (Beth), sister Joyce Ballard in England, grandchildren Sara Jarvis (Shaman Brown), Rachel (Erik) Freund, David (Samara) Olson, Samuel (April Matthews) Olson, Elizabeth (Tina) Olson-Cruz, Jasmine (Daniel) Klock, and Shawn Jarvis, and great-grandchildren Emma, Parker, Oliver, Eloise, Skyler, Laina, Leif, Irene, and Rosemary.
Her wishes are to have her ashes spread in the Eversley Bluebell Woods when they are blooming in the spring.
The family would like to thank the Freund family for their dedication to Sheila's care and comfort during the pandemic; the Golden Spirit Adult Family Home (Gabby, Rob and Velma) for their amazing love, care and compassion; and Continuum Hospice for the compassionate care and music therapy given to Sheila during her final months. In lieu of flowers, please consider making a donation to Cedar Park Church or your favorite charity.
Well done …thou good and faithful servant. Matthew 25:21
---
A Memorial Service Will be held Saturday, October 15th, 11:00 AM at the Chapel of the Resurrection Funeral Home, located on the grounds of Cedar Park Church, 16300 112th Ave NE, Bothell, WA 98011.

Comments
Gary, Pat, Joe, and Meaghan Massoth (Posted: September 20, 2022)
Our children Joe and Meaghan were fortunate to have attended Mrs. Jarvis's Preschool. Both children loved her and remember her loving structure and kindness. Though they are in their 40s, they recall "Mabel, Mabel, tall and able, keep your elbows off the table" when having snack time! Such good caring guidance! Rest now Sheila! And thank you for teaching my children with such love!
Andy, Sandie, Hannah & Charlotte (Posted: September 19, 2022)
Auntie Sheila, You leaned into life with great enthusiasm and joy. Your energy and zest for helping others was infectious. Your steadfast belief in the Lord never wavered throughout your life and has been an inspiration to many. It's time for you to rest easy now. With love & fond memories from Andy, Sandie, Hannah & Charlotte
Kim Rankin (Posted: September 17, 2022)
All 4 of my children attended Mrs. Jarvis Christian Pre-school in the early 90's. Her teaching gift and ability to impart the love of Jesus to the children is unmatched. I have been going through old family videos and came across our son's 1993 Christmas party. It was just precious and amazing that she could get those 4 y/o to perform so well. Our prayers and blessings to the family. Thank you for sharing Sheila with all of us!
Kathie Hubbard (Posted: September 16, 2022)
I met Shiela in 1976 when my son Matthew was in her preschool. I was going through a sad divorce and I know she prayed for me. I gave my life to Jesus in Feb 1983 and met up with Maurice and Shiela at Eastside foursquare. I kept in touch with both of them and with Shiela after the memorial service for Maurice. Shiela was a great woman of faith who touched my life and I am so grateful for the many years of knowing her. She is in the Presence of her Lord and Savior...what joy!!!
Vanessa and Mike Olson (Posted: September 16, 2022)
Mum - we love and miss you very much. You have left an amazing legacy for us all to follow and live up to. Hope you are enjoying your heavenly tea party with Dad and the Queen. love, Vanessa and Mike
CaroleSue Swanson (Posted: September 15, 2022)
I knew Sheila through Senior Saints when she and Maurice used to attend, as well as seeing them around Cedar Park Church. Such a lovely woman, always gracious and ready to jump in and help where she could. I will miss her smile!
Martin & Nicky Jarvis (Posted: September 15, 2022)
Remembering fondly our trip to the USA and visit to see Sheila and Maurice. Wonderful to see them and many of the family. Thinking of you all at this time, love Martin & Nicky.