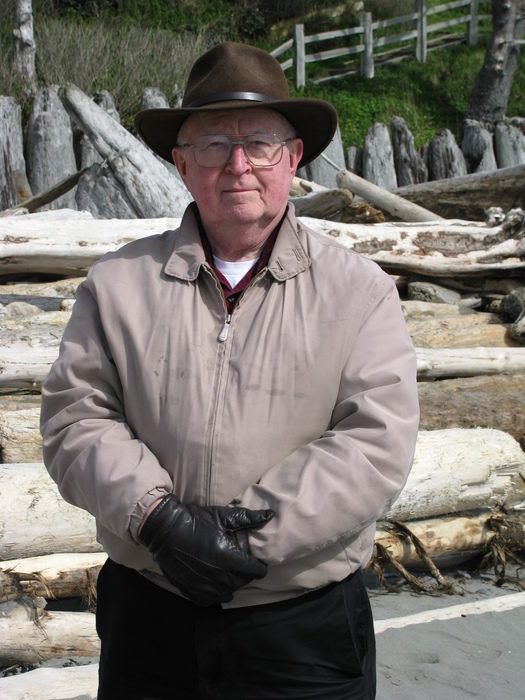 John Arthur Burriss Jr.
Obituary
John Arthur Burriss, Jr, 97, passed away on December 28, 2022 at the Regency Care Center in Monroe, WA. He was predeceased by his father John A Burriss, his mother, Josephine Miller Burriss, his brother, Zedford W Burriss, his sister, Josephine Nelson Burriss, and his wife, Mary Anna McBride.
John is lovingly remembered by his daughter and son-in-law, Suzanna and Saúl Martínez; son, John A Burriss III, and his wife, Patricia Suess Burriss; and two grandchildren, Joshua M and Steven D Burriss.
John A Burriss, Jr was born on January 30, 1925 in Des Moines, Iowa. His parents were in their forties at the time, and John's siblings, Josephine and Zedford were 12 and nine years older, respectively. John must have had a lot of people telling him what to do! He was home-schooled by his mother, a teacher, until he went to Roosevelt High School, graduating in 1941 at the age of 16. While in high school, he played second violin in the orchestra, was a member of the rifle club and played the flute in concert band. He also enjoyed conducting chemistry experiments in his spare time. And if you are starting to get the impression that he was brilliant and curious, you are correct!
Following graduation, he moved to Seattle, living for a time with his mother's first cousin, Mayme Hemphill, while enrolled in the University of Washington. His education was interrupted in August 1943, when he was called to active duty in the Navy. John was initially sent to Pasco, WA for aviator training, then to various locations in Illinois, Iowa, Texas, and finally, Pensacola, FL. John's intention had been to serve in WWII combat as a pilot. However, by the time his training was complete, it was October 1945, and the war had ended. John was a crack shot, and won many pistol shooting competitions during his training in Pensacola, FL, though his children did not see his box full of medals until well into adulthood. John was a humble man who compartmentalized the different areas of his life, and it did not occur to him that his family might be interested in his achievements. He also played the violin beautifully, even after not touching it for years. Sometimes he'd accompany his daughter on the piano, playing Christmas carols, but only after his family begged him to do it! He also adored listening to classical organ music, especially Beethoven, Bach, and Mozart. He liked to turn up the stereo volume as loud as possible, something his wife did not appreciate!
After being placed in inactive status by the Navy, John returned to the University of Washington on the GI Bill to complete his education, joining the fraternity Delta Tau Delta, and earning a BS in Chemistry. He voluntarily returned to active duty status during the latter part of the Korean War. Following the war, he continued his Navy career in the reserves, achieving the rank of commander, going periodically to Sand Point Naval Base, and after its decommissioning in 1970, to Whidbey Island, until retiring from the Navy in 1985.
While John and his future wife, Mary Anna McBride, had grown up in the same town, attending the same high school, they were not well acquainted. One day, they both happened to go to California to visit their siblings. To give context, John's sister had married Mary Anna's brother previously. This visit was the beginning of their romance, and on December 23, 1955, they were married in Kelso, WA, where Mary Anna was teaching. They lived for a short time in CA until John was stationed in Japan for approximately 15 months. John and Mary had fond memories of their time in Japan, and sometimes on Saturday nights, John would get out the screen and projector, Mary Anna would make popcorn, and they would show the slides to their children and talk about their experiences. As they did not live on base, they had many interactions with local people, and learned a few phrases in Japanese, which they sprinkled into their conversation for the remainder of their lives. They also shared an affection for dogs, having Dalmations for most of their married life, including while living in Japan. The dogs also featured prominently in the evening slideshows!
Upon returning from Japan, John tried for a job with Lockheed, and when that did not work out, he applied to Boeing. John secured a position as an engineer in the MinuteMan Missile program, later moving to AWACS (Airborne Warning and Control Systems) where he spent the majority of his 35-year career. John worked in Flight Publications, where he wrote and edited technical manuals for AWACS planes. His job was classified, and for most of his career he worked in a secure building in Kent, WA, so he could neither talk about his job nor could his family visit him in the office. After retiring at age 68, he continued to work in AWACS on a contractual basis through Volt Temporary Services for approximately another16 years. He spoke highly of his colleagues and loved his work!
John was also dedicated to his family, and when he was not working overtime during the summer, took them on annual camping trips to the Olympic Peninsula, to places such as Kalaloch, Heart 'o the Hills (close to Hurricane Ridge), and the Hoh River. His family remembers him laying out the tent and tent stakes with military precision, and then refusing assistance from his children. They were given the job of walking the family dogs, no doubt, to get all of them out of the way, so the tent could be erected properly! He also had important facts he wanted his children to learn, such as the order of the planets starting with closest to the sun, which was often reviewed just before bedtime. His daughter still has the order memorized from her dad's teaching sessions, noting that Pluto was considered a planet at the time.
John and Mary Anna lived on a tight budget for decades, and were extremely frugal. As an example, John was a big fan of Fords, and was dedicated to driving old station wagons, purchasing the cars when no one else wanted them, i.e., when they had over 100,000 miles. He had an elaborate pulley system rigged up in the garage, which he used to install a new engine with help from a couple of neighbors, and then he drove the cars until they dropped. This practice continued until 2000, when his son convinced him to buy a new car, shockingly, a Chrysler Cirrus, rather than a Ford! John could also fix or build anything, including the backyard fence, and refinishing a child's desk, purchased at a garage sale, that his daughter has to this day! His work was always impeccable!
John had a strong faith in God throughout his life, underlying everything he did. Due to his reserved personality, he was not vocal about it, preferring to show his faith by acts of kindness and generosity. He used his car as a vehicle for service, rescuing members of his family and friends, in various situations, such as:when stuck in the snow, locked out of their cars, or following a spin-out accident in freezing rain on the bridge over the Snohomish River. He attended church throughout his life until mobility issues prevented it, and read his Bible and prayed for his family every night. A guarded man, people often got the impression that John was insensitive. However, beneath his reticence, he had a tender heart that he rarely showed. For example, he saved the Cowlitz Valley County Bank check for the rest of his life that his wife made out to him when they were living in different cities during their engagement in the 1950s. Mary Anna signed "Just A. Dreamer Who Misses U", and indicated the check amount was "Forever ". The piece of paper, at least 67 years old, was found disintegrating in his wallet. He also demonstrated his unselfishness, by caring for his wife, who had congestive heart failure for many years. His daughter and son-in-law helped out as much as their work/commute schedules allowed, and urged John to hire additional help. His reply was ''the good Lord has blessed me with great health, and as long as I have that, I am happy to take care of your mom", which he did, until he could no longer do so.
John had a dry sense of humor and a handsome smile that he tried to keep hidden for reasons that will remain a mystery. His family viewed this as a challenge, and when his children were young, they did everything in their power to make him laugh at the dinner table. John's ''tell'' when he was resisting smiling or laughing was that the corners of his mouth twitched. His children would catch this and say, ''Dad, you're twitching", and then John could restrain himself no longer, and laughed. Though he often took himself too seriously, he could also be self-deprecating. One such instance was in 2013, when his daughter and son-in-law were preparing to go on a tour to Israel. John pulled up a chair close to them, and explained that it was ''imprudent'' to travel to Israel, Syria was bombing the country, and that they were likely to die over there. After discussing the topic for several minutes, exasperated, John said to his daughter, "you are so independent and stubborn!", to which she replied, "that is so weird, Dad! I wonder who I could possibly have gotten that from?". John burst out laughing, and said, ''well, from your mother, of course." The truth is that both he and Mary Anna were extremely independent and stubborn, and the most opposite personalities you can imagine, though they loved each other dearly.
John had a lifelong passion for steam engine trains, and until the trip became too burdensome, for several years after he retired, his daughter and son-in-law bought him an annual pass to ride on the steam train out of Chehalis. He loved talking with the engineer and blowing the whistle as the train approached railroad crossings! He also rode the Mt Rainier steam train with his grandchildren, son, daughter, and son-in-law, on one memorable occasion.
John once said that there were three goals he had in his life: to be a pilot, a chemist, and an engineer, and he accomplished all three. In addition, he was a loving and faithful husband, a kind and generous father, and a dedicated employee and naval officer. He was indeed a remarkable man, and while his family is devastated by his loss, he would not want us to be sad. As he said in an attempt to put things in perspective when his wife of 63+ years passed away in 2019, ''the sun will rise in the east tomorrow, just as it always does". In honor of his wishes, we celebrate John's life, are happy he is no longer in pain, is reuniting with friends and family who went before, and can ask those burning questions of the people he read about in the Bible during his life on this earth.
Comments
There are no comments available.