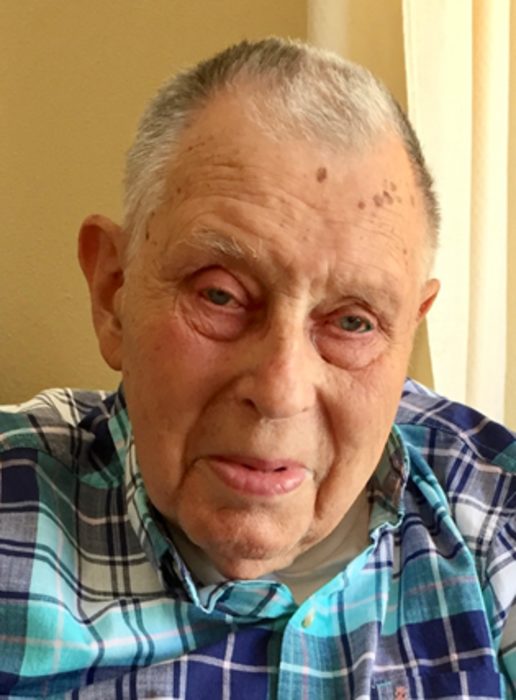 Franklin "Leif" Holm
Obituary
On May 26, 2019, age 93, Franklin "Leif" Holm left us to be with the Lord. He was born on September 11, 1925 in Seattle, Washington. His parents Lois & louise, Norwegian immigrants and 3 children, Sylvia, Lafy and Eldrid. They grew up in Kirkland starting when Uncle Lafy was 6 years old.
Through his entire life, Uncle Lafy was declared legally blind and never was able to drive but through it all, he never missed anything. It never slowed him down.
Uncle Lafy was our family historian. He had a photographic memory that was unbelievable. We have always been so fascinated with his ability to remember everything.
He has 6 nieces; Honi, Vicki, Lori, Paula, Tari, Patty and one nephew; Tony who has passed.
He worked many different jobs over the years. He went to cooking school in 1960 and then went to work for Puget Sound Tug and Barge as a cook for 22 1/2 years. He went from Anacortes to Seattle and also to Alaska. He retired at age 57.
Uncle Lafy built a new home in Kirkland and Sylvia, his sister and her daughter, Honi moved in with him on March 1, 1957. He lived in his home for 62 years. When my aunt married Uncle Mike, they all lived with Uncle Lafy. Honi, was like a daughter to him and she lived with him until she graduated from high school. Honi and Uncle Lafy had a very special bond and no matter what, she was always there for him. Honi and her late husband, Paul were truly devoted to Uncle Lafy.
His favorite things to do were having large lunch/dinner parties at his home and loved travelling, especially to Norway. He loved spending all of his holidays with family. He traveled many places, Las Vegas, Mexico, Hawaii, Philippines, Greece, but his favorite place was going to Norway to visit lots of cousins. He took at least 40 trips to Norway and stayed sometimes over a month. He had many wonderful memories and lots of laughter over the years.
He is survived by his sister, Eldrid; 5 nieces; 4 grand-nieces and nephews; 13 great-grand nieces and nephews., and nieces along with many relatives in Norway.
Uncle Lafy will always be remembered for his fantastic memory, determination, strength, hard work and love for friends and family. We all miss him and he is now at peace with the Lord.
A Celebration of Life will be held on June 20th, 12 noon at the Chapel of the Resurrection Funeral Home, located on the grounds of Cedar Park Assembly of God Church, 16300 112th Ave. NE, Bothell, WA 98011.
In lieu of flowers, donations can be made to your favorite charity or Cedar Park Assembly of God Church.
Comments
There are no comments available.